Blue honey, or how to boost your resilience! And stay away from cancer!
I personally don't associate blue with resilience. With sadness, depression, rainy days, loneliness… However, this is not the case with this type of honey.
It is blue, indeed, but not because it is made from blue flowers. A team of scientists came up with a formula that boosts body resilience, among other benefits brought by simple honey. The color is not obtained from additives, but from the combination of added natural ingredients. Mainly from spirulina extract and chamomile essential oil, which are naturally blue.
Blue Chamomile essential oil has a high content of azulene, the active organic compound of chamomile, which bears a blue color. Azulene has very potent anti-inflammatory, skin healing properties.  It also has antibacterial, anti-fungal and antiseptic properties.
Apicol Science, the producer of Blue Honey is a brand of Synergy Plant, a company based in Romania. Their goal is to create recipes from plant extracts and beehive products for the health of the whole family.  From children to seniors, from digestive system to reproductive one, they offer well documented and scientifically backed solutions.
The name of the blue honey is APICOL 12 GAMMA and as the name implies, it contains 12 natural ingredients:
organic polifloral honey: 90,39%;
raw royal jelly: 7%;
aqueous extract of burdock (Arctium lappa): 1% and German Chamomile(Matricaria chamomilla): 1%;
Spirulina (Arthrospira platensis), hydro saline extract, with min. 25% phycocyanin: 0.2%;
Siberian Ginseng (Eleutherococcus senticosus), root, aqueous extract with min. 0.8% eleutheroside, dry: 0.1%;
Milk thistle (Silybum marianum), fruit, hydroalcoholic extract 40-50:1 (maltodextrin), dry, with 80% silymarin: 0.1(%);
Korean Ginseng (Panax ginseng), root, hydroalcoholic extract 4:1 (maltodextrin), dry, with 4% ginsenosides: 0.05(%);
Astragalus (Astragalus membranaceus), root, hydroalcoholic extract 20/1 with min. 50% polysaccharides: 0.05(%);
Frankincense tree (Boswellia serrata), micellar emulsified extract concentrate in polysorbate 20, with min. 12% boswellic acid: 0.01(%);
Chamomile (Matricaria chamomilla), essential oil 0.06(%);
Clary sage (Salvia sclarea), essential oil: 0,02(%);
Common sage (Salvia officinalis), essential oil 0,02(%).
How to take blue honey?
One to two teaspoons twice per day.
 What is blue honey good for?
all 12 ingredients support the body's natural defenses, support the body's resistance.
it maintains the structure and normal functioning of the spinal cord
it maintains cellular health and selectively destroys cells that have undergone mutations
offers physical and emotional support in case of invasive treatments (chemotherapy or antibiotic treatment)  and periods of intense stress. The ingredients support and boost our mental capacities in case of weakness, exhaustion and fatigue.
the blue honey has an antioxidant role, protecting cells and tissues from oxidative damage. This means less aging, more youthfulness!
So, if you are feeling tired, emotionally and physically, if you are undertaking an invasive and powerful allopathic treatment or are recovering after one, if you want your body to be more resilient, then blue honey is a good choice. It maintains the health of the cells and destroys the ones with mutations.
What is Frankincense tree (Boswellia serrata) extract good for?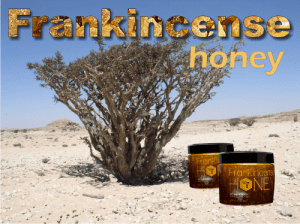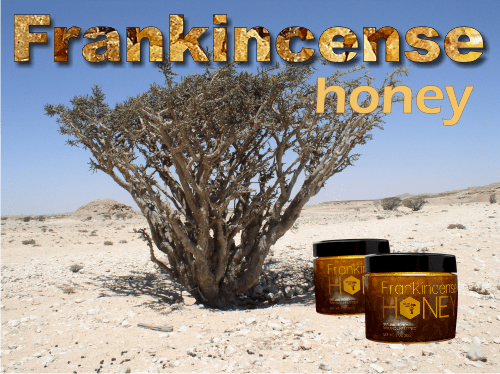 It regulates emotional moods. A 2008 study conducted by Arieh Moussaieff, showed that incensole acetate, a Boswellia resin constituent, is a potent TRPV3 agonist that causes anxiolytic-like and antidepressive-like behavioral effects in wild-type (WT) mice with concomitant changes in c-Fos activation in the brain. In English this means it helps with depression and anxiousness.
(I wonder who told the Buddhist monks or Christian priests to burn frankincense in their  religious temples?)
How does spirulina affect the cells?
Yufeng Liu and his colleagues showed in a study from 2000, published on Journal of Applied Phycology, that phycocyanin from Spirulina platensis has an inhibitory effect on the leukemic cells K562. The study explained that "The cytotoxicity exhibited by Spirulina extract to cancer cell lines might be due to the presence of phytopigments (carotenoids, chlorophyll, phycocyanin) as well as polysaccharides. … Crude extracts of Spirulina can be used as a source to develop anticancer drugs."
What is royal jelly?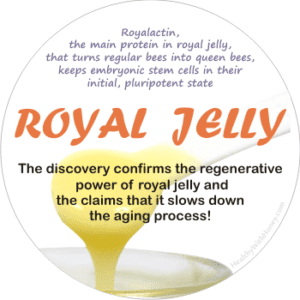 The white liquid that feeds the queen, the magic food that turns a regular honeybee into a queen, has therapeutic properties well-known by all apitherapists and naturopaths.  What is royal jelly good for?
The list is really long: diabetes, high blood pressure & cholesterol, fertility, breast cancer, flue (Covid included) and helps with stem cells. That's the reason they added it in the blue honey. Because it keeps stem cells in their embryonic, pluripotent state. (see Royal Jelly health benefits)
What is Astragalus root good for?
Astragalus polysaccharide (APS), the primary active component extracted from a traditional Chinese medicinal herb Astragalus membranaceus, has been proved to exert a marked inhibitory effect on a number of types of human solid tumors. A study from 2016 conducted by WEN-HAI HUANG and colleagues from China, showed that astragalus extracts can be used in the therapy of Hepatocellular carcinoma.
The German chamomile?
The German chamomile (Matricaria recutita or Matricaria chamomilla), also called "blue chamomile", is native to Europe and widely cultivated in Hungary, Belgium, Germany, Bulgaria, Yugoslavia and Spain. It's a essential oil is dark blue and is steam distilled from the dried flower heads of the plant. German Chamomile gets its rich, deep, blue color from the presence of chamazulene in its chemistry. Its scent is more herbaceous and slightly medicinal when compared to Roman Chamomile. The main uses of German Chamomile are allergies, skin irritations and inflammation, earache, dysmenorrhea, headache, insect bites, insomnia, nausea, PMS, stress, sores sprains and strains.
Clary sage essential oil
Clary sage essential oil has a broad spectrum of effects: analgesic, antiinflammatory, antioxidant, antifungal, and antibacterial. It also has a cytotoxic effect as it causes plasma membrane perturbations which leads to cell apoptosis process. (study "Effects of clary sage oil and its main components, linalool and linalyl acetate, on the plasma membrane of Candida albicans: an in vivo EPR study", by Ágnes Blaskó  et al., 2017)
Common Sage essential oil was called "the sacred plant"!
The common sage is used in folk medicine all around the world to treat microbial infections, cancer, malaria, inflammation and to disinfect homes after sickness (Kamatou et al., 2008). Essential oil of sage has been shown to possess antimicrobial, viricidal, cytotoxic, antimutagenic and antifungal activities. Its Latin gender name Salvia means "to cure" and species name "officinalis" means medicinal, it is clear that sage has a historical reputation of promoting health and treating ailments. In Ancient Rome, it was even called the sacred plant (Durling et al., 2007, Kamatou et al., 2008).
The study "Chemical composition and anticancer activity of essential oils of Mediterranean sage (Salvia officinalis L.) grown in different environmental conditions" from 2013 conducted by Alessandra Russo from University of Catania, Italy, evaluated the growth-inhibitory and proapoptotic effects of the eighteen sage essential oils  in three human melanoma cell lines, A375, M14, and A2058.
Give it a try! Apicolscience.ro