It is called Apitherapy with Aerosols.
There are people saying it cures asthma and its ugly symptoms.
Though it is not a popular approach, this method is a valid alternative to our conventional medicine.
To make a recap: from the bees we use:
– honey, pollen, royal jelly, beebread – which are their food (for adults and babies),
– propolis – which is their medicine and protection,
– their own bodies – from which we make apilarnil
– venom – which is their weapon
– wax – which is the substance from which they build their house
What else can we use from them? Well, we use the air they make!  
Inside the hive honeybees are always working. Some of them dry the nectar placed in the cells, with their wings, to maturate the honey. They are called ventilators. (see here more about the honeybee's life and jobs)
These bees ventilate the air to evaporate the water from the nectar. In this air there will be all the essential oils brought with the nectar of the flowers. Imagine all the little bottles we see for sale, nicely packed and labeled, filled with essential oils collected from specific flowers, existing all in the air inside a hive.
Essential oils evaporate really quickly. First they are evaporated when the bees ventilate the hive. Then, they evaporate during the process of centrifugation. To extract the honey from the combs cells, the combs are placed into a centrifugal machine which spins at a very high speed and makes the honey get out of the cells.
Probably this is why it is said that honey from a comb tastes better and is more therapeutically valuable than regular honey. And more expensive, of course. Raw honey as we know it, has already suffered the process of centrifugation, otherwise it cannot be extracted from the combs.
A beekeeper knows the specific smell coming out of the spinning machine, warm and full of flavors. Which is probably why beekeepers rarely have asthma.
We must remember here the new wave of beekeeping, Honey on tap, which uses frames called Flow frames, which can be moved and cut the cells letting the honey to flaw. This honey can be collected directly in a jar, without the need of centrifugation, without even removing the frames from the hives.
The honey collected this way will surely be tastier and healthier (because of all essential oils that will still be inside it). If you haven't seen how this kind of hive works, here is an explanatory video:
What is inhaling aerosols from inside a hive good for?
In 2012, Dr Peter Kaps from Slovenia reported that the benefits of inhaling the air from inside a hive targeted respiratory conditions like:
· sore throat,
· chronic obstructive pulmonary disease,
· chronic bronchitis,
· emphysema,
· tracheobronchitis,
· bronchiolitis,
· bronchial asthma
  and others
Is there a specialized device to inhale the air from a hive?
Yes, there are.
Beekeepers notice the healing effect the air inside a hive has. Especially when they were centrifugating honey. And so, they decided to explore more and tell the world. They did the necessary adjusting to the hive, and started the experiiments.
Medikoel is a company in Slovenia which makes the device and sells it worldwide. They don't have an online store on their website, but sending them an email can get you everything you need. Info included.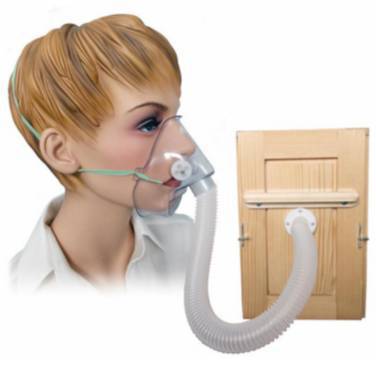 API-AEROSOL I, Inhalation of aerosol from the hive
contains the following:
• Mask for apitherapy with shut-off valve
• Flexible pipe 120 cm
• Hive adapter
• Mouthpiece
Price: 19,00 EUR
API-AEROSOL II, Inhalation of aerosol from the hive with forced draft
Inhalation of aerosol from the hive with forced draft allows a grater flow of aerosol from the hive by means of a fan (API AEROSOL I), to be powered directly via 230V/12V adapter or 12V batteries (API SUPPLY).
The package includes:
• Mask for apitherapy with shut-off valve.
• Mouth piece.
• Flexible pipe 120 cm.
• Attachment to the hive with forced thrust and regulation.
Price: 64,90 EUR
The really good thing is that any beekeeper can adapt his hives to be used for inhaling the air from inside. On these pages you will also find free pfd-s explaining in detail what is needed and how to assembly the parts. Check the pages and download the materials.
Here is an absolutely amazing Deutsche Welle article on inhaling aerosols from the hive to treat asthma: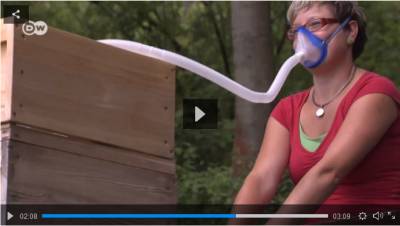 Are there other products to be inhaled with the same results?
Yes, there are.
Medikoel.com also offers other revolutionary products, also used for inhaling. We all know the nebulizer machines for asthma. Here is one sold by Amazon. When our children have very bad colds, flue, asthma, allergic rhinitis, bronhitis and other respiratory conditions, our doctors always recommend using them. And prescribe us to use this nebulizer with saline water, adrenaline or other more powerful substances. 
Medikoel comes with an alternative solution, also from the hive: mixtures with honey, pollen, propolis and some well-known plants. These products must be first diluted in saline water and then used in the nebulizer. The effects are immediately seen.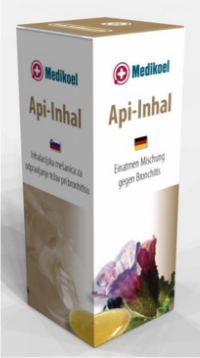 Here are their products:
1. Inhalation mixture against bronhitis. 
It contains aqueous extract from ordinary lungwort, propolis, honey and echinacea (Echinacea purpurea L).
2. Anti-inflamatory inhalation mixture of the upper airways.
It contains propolis, honey, extract of Echinacea (Echinacea purpurea L.)
3. Inhalation mixture to help with allergy or seasonal allergic rhinitis
It contains propolis, honey, pollen
4. Inhalation mixture against cold and flu.
It contains propolis, echinacea (Echinacea purpurea L.), extract of spruce tips, essential oil of eucalyptus, honey.
5. Soothing blend for inhalation
It contains: extract of valerian (Valeriana officinallis L.), propolis, honey.
They are really easy to use and this video shows the whole process.
Remember that you can only buy them by sending them an email. At info@medikoel.com they are always glad to sell something. 🙂
Here are some other alternative methods of treating respiratory conditions:
• The best natural remedies for colds – summary
• Propolis treats otorhinolaryngologic and respiratory diseases
• Search respiratory Propolis treats otorhinolaryngologic and respiratory diseases2015/04/20 Buckwheat honey – the most powerful antioxidant honey!2016/02/10 January's health recipe. Treat your sore throat naturally.
References:
http://www.medikoel.com/apitherapy.html?id=53
http://www.dw.com/en/rediscovered-apitherapy-for-asthma/av-18658979