Greece has been recently hit by a strange set of storms, mostly in the central and northern parts. There has been a lot of damage, even dead people. But Greeks are special. They had to pass through a very difficult economic time and they did it successfully.
How come they know what to do? Their land is not productive, they are not recognized technical geniuses with high technology (like Japan for example), don't have factories or industrial plants. What they have is a hand of traditional products and beautiful landscapes.
Enough, they said. And focused on tourism.
And tourists have come. The sun, the sea, the good food and the Greek never-ending mood for fun, these all attract tourists like honey bees to … honey. 🙂
And of course, the fact that they are smart.
With European money, they knew what to focus on.
It's hot there. And if it's hot, the flowers, as scarce as they are sometimes, have plenty of nectar. Where nectar is, honey follows.  Greece is appreciated for its quality honey ever since antiquity. The most popular start with Pine honey (with a unique taste here) and continue with fir honeydew, chestnut, thyme, heather, citrus, cotton and sunflower honeys.
And the list may continue with some rare honey, such as strawberry tree honey, or the regular multifloral honeys, which are not so regular when it comes to its health benefits. And here I can give you the example of Ikaria honey, which has become a legendary place, one that is has an honorable place among the famous blue zones of the Earth, where people forgot how to die!
Anyway, having amazing honey is just not enough. Which is why Greeks created the Bee Museum. And its amazing website, as well.
On Rodhes island, one beautiful island (like all the others, I would say) famous for the legend of Colossus of Rhodes, knights' castles and the way two seas meat but don't mix: Aegean Sea and Mediterranean Sea.
Here, on this island, the honey bee is worshiped like a Greek God!
Bee Museum of Rhodes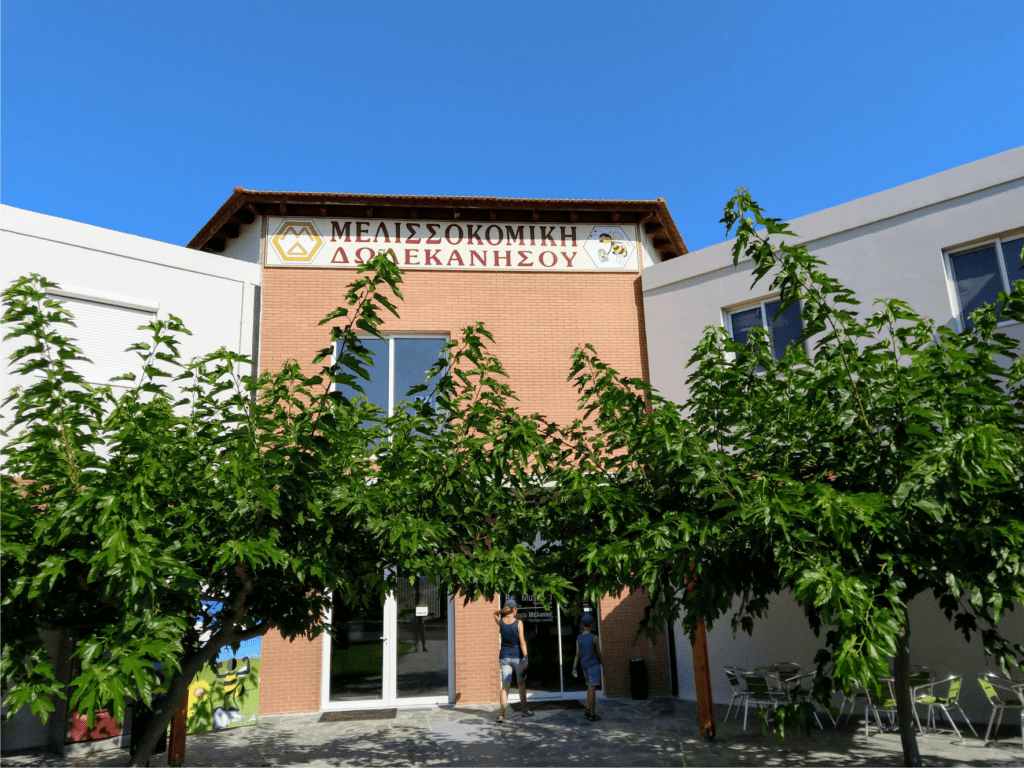 The place is new, it has a covered parking area – which is important in Rhodes' torrid sun – it's small and cozy. It starts with a bit of history, how can they not, as beekeeping is as old as Greece, and presents short stories about all the processes needed to make honey. How a beekeeper's suit looks like, how were the hives in the beginning and so on. It is somehow structured like a school lesson for kids and this way everybody can understand.
And it is not only about understanding, but also about attraction. There are online games for children, the ceiling is like a huge honeycomb with 2 bees coming out of its cells, there are real glass hives with bee colonies inside them, so we can see the honey bees as closer as it can possibly be done, in safe conditions. Here are some pictures: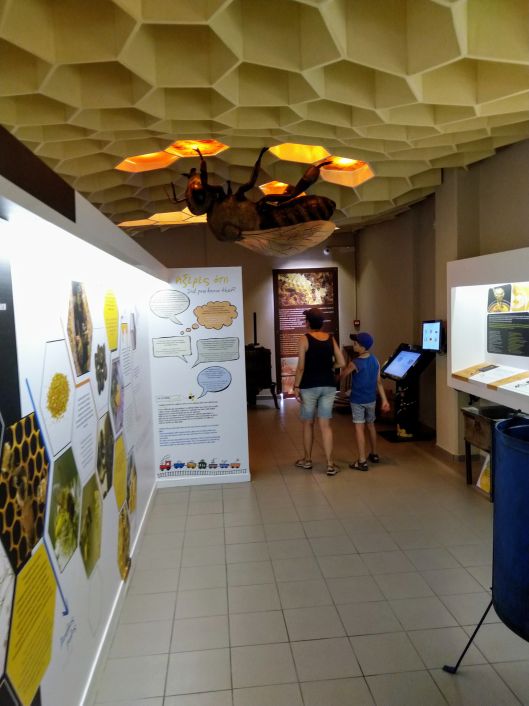 They show how a beekeeper looks like – pretty much line an astronaut –  and how a hive is built.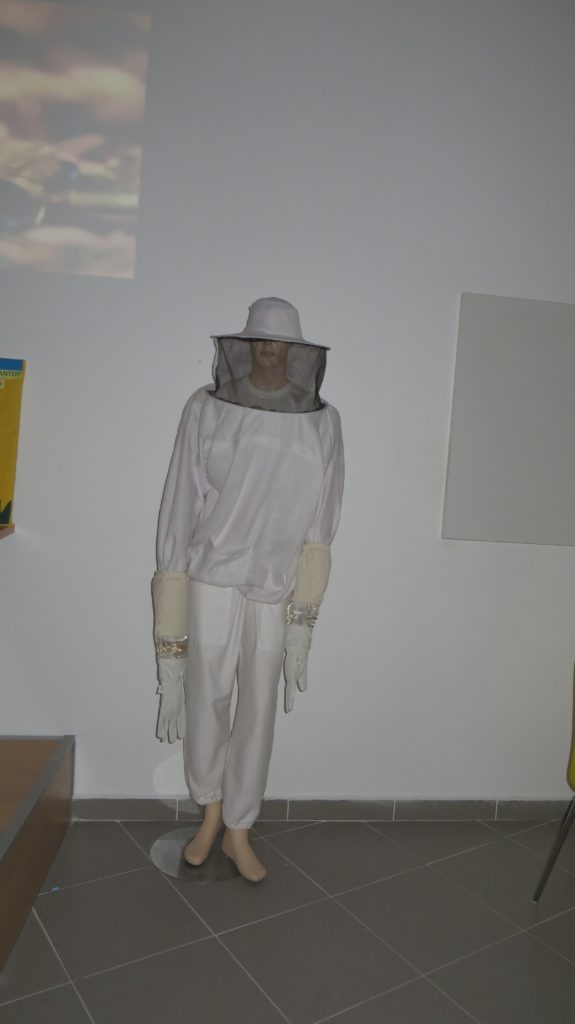 Do they also sell honey there?
Absolutely, when it comes to selling, Greeks are The Experts! Honey and everything else, royal jelly, propolis, pollen, wax figures, T-shirts, caps, plates…
But they are more focused on explaining the world of bees to us. And it looks like a school lesson, taught in an easy language, for both children and adults. Even if you have almost zero beekeeping info, they teach you the basics. And yes, my 8yo was captivated, he played the online games, of course, but also asked me a lot of questions about the life of a bee.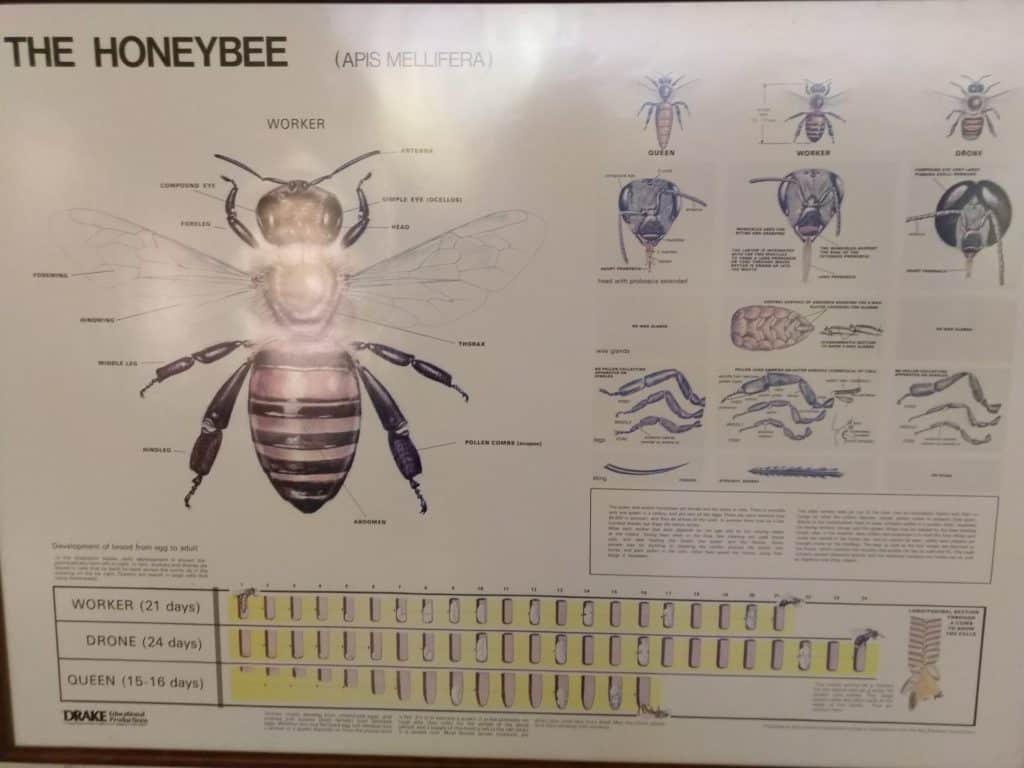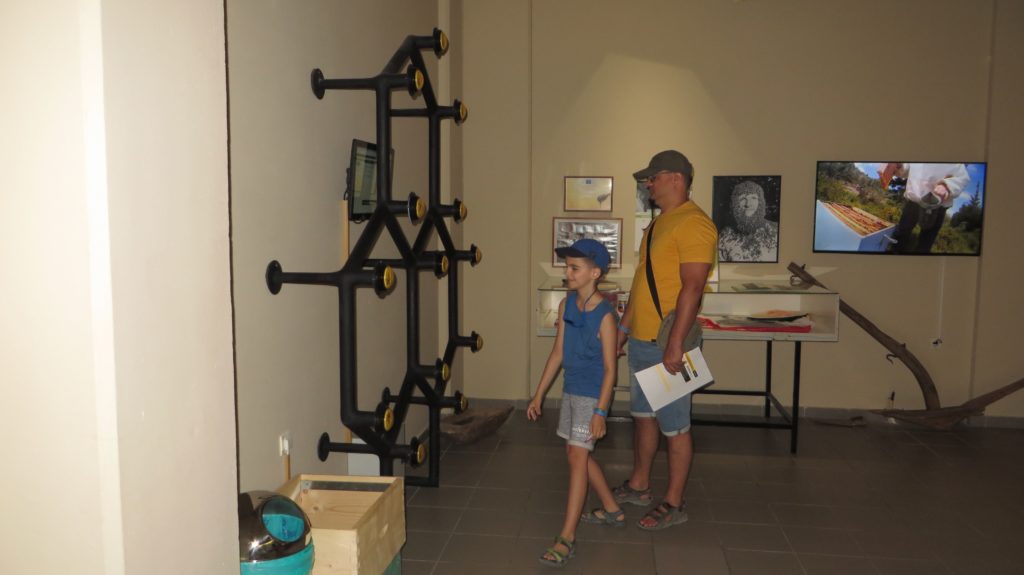 Is their honey good? The prizes and awards are here to confirm it! I bought some jars of honey from there, from all the types they had,and yes, I can confirm, the taste was good indeed.
What I liked the most was the possibility of seeing honey bees in action, in the comfort of their own home, inside the hive. Two hives were exposed there, having glass walls and a special tunnel, through which the bees were going in and out. It stroke me how many they were and kept wonder how come there was no chaos there.. It would be if we put as many people in the equivalent of such a tiny space.
Anyway, my husband and my son were stuck there, staring at them for a long time. There were even magnifying glasses for a closer view.
Everything you wanted to know was there. From the form of a honey comb to the not-appealing color of propolis.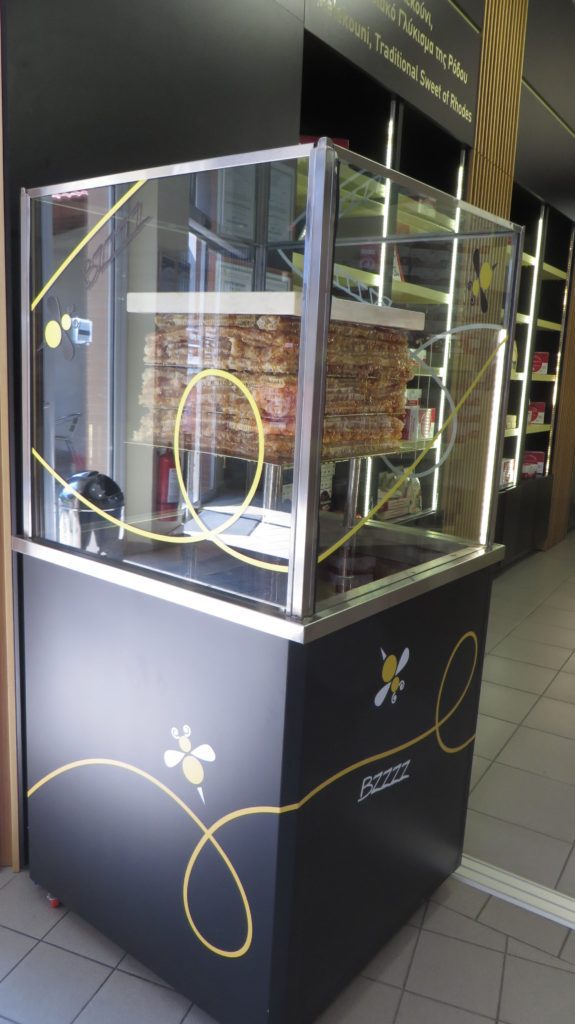 Here are the areas in Rhodes with beekeeping centers. In case you want to go to the source. Considering that they have more rocks than soil on the island, and that the flowers are not very crowded, there are a lot of hives here. Pin honey is the most popular and abundant, because this tree grows here very well.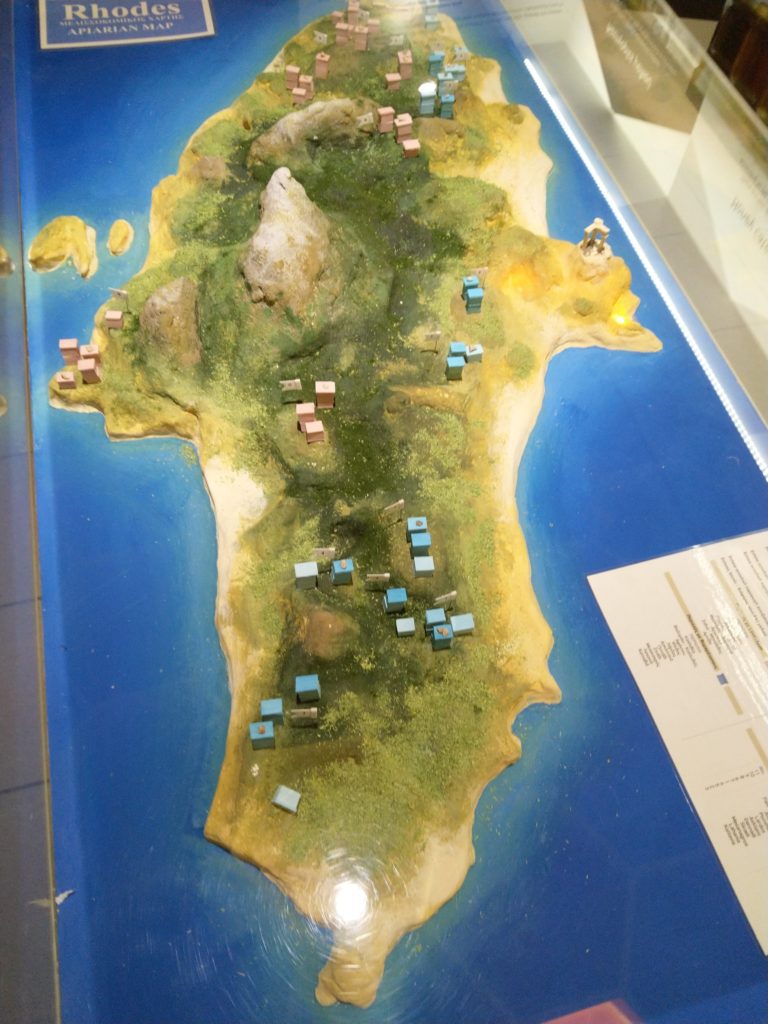 Greeks are cheerful and with a great sense of humor, as I have already told you by now. Do they take advantage of any opportunity? Yes, they do. Here is the proof: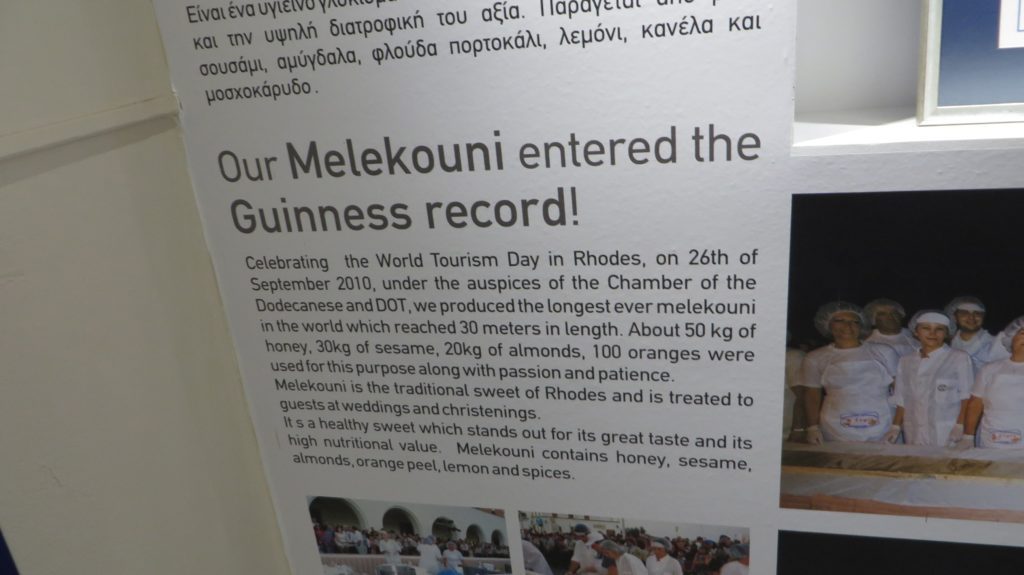 There were only 3 things that I would have liked to be different.
1. More focus on royal jelly and propolis – as they are amazing products;
2. More focus on apitherapy, with scientific books for sale.
3. Exposure and support of their local beekeepers. I would have like to buy some raw honey from them, not from a factory, but from small entrepreneurs. The honey they were selling in the museum was pasteurized (at least I hope this was the only process used).
Other then than, my hat off in front of their initiative. I'm sure they will keep improving it all the time, so who knows, maybe in a few years I will be able to buy even raw Strawberry tree honey from there. Well, it is too much said, I know, but yet, if we consider the amazing health qualities of this weird honey, maybe Greeks will find a way to produce more.
Meanwhile, I wish every country would have such a Museum and such consideration for our friends, honey bees.