Every winter I get the same question: what is the best honey for colds and associated respiratory problems? And how to treat bronchitis naturally, at home, without synthetic drugs?
Well, the best is BronchoMel.
It's a type of honey made by the Israeli company Zuf Globus Laboratories Ltd, intended for the treatment of basic respiratory problems such as: mucous, cough and breathing difficulties.
This special type of honey has antiviral, antifungal and anti-inflammatory properties. Testes have found it to be more efficient than the relevant antibiotic used for the respiratory system.
BronchoMel is a natural antibiotic and expectorant.
About the producer, Zuf Globus
Zuf Globus Laboratories is a company based in Kiryat Shmona, Israel, that develops, produces and markets health beehive products, based on medicinal herbs and made by bees that are fed mixtures of medicinal herbs, specific for each product.
The particularity of this producer is that the honey they sell is not regular honey. When we speak about specific plants we imagine a greenhouse where these plants grow and bees have no other source for nectar. It's how Revamil honey is produced.
But at Zuf Globus honey bees do not gather nectar. They are fed on a mixture of plants which include different parts, not only nectar.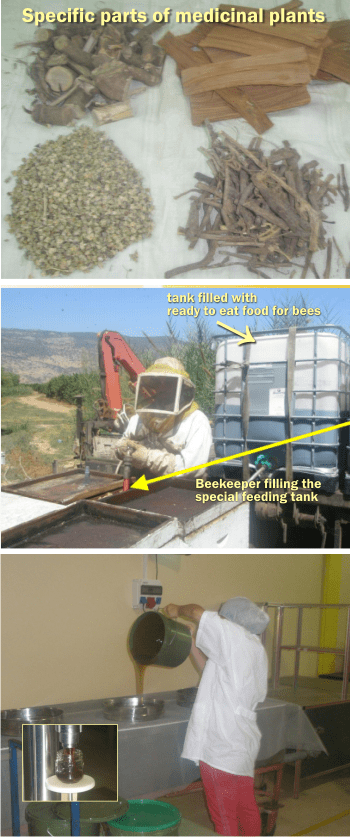 Here is how it is done:
1. Specific parts of plants are gathered. Most of these parts are not available for the bees in nature.
2. These parts are processed and then transferred to a special container where they are mixed with sweet substances.
3. The mixture is ready for bees and is poured into a 1M3 tank to be taken by the beekeeper to the beehives (located in open fields). Inside the hives there are special feeding tanks.
4. The filling the special tank inside the hive is repeated 16-24 times, every 2-4 days, until the bees seal the honeycomb and honey is matured.
5. The beekeeper collects the honey and transfers it into barrels which will be taken to Zuf Globus Laboratories.
6. From each barrel that arrives at Zuf, a sample will be sent to an independent laboratory in Germany, to confirm that there are no forbidden pollutants in the final product, such as pesticides, antibiotic etc.
7. After receiving the tests, honey is filtered for impurities and then poured into jars.
(picture source: israelexporter.com)
The company complies with the strictest standards for producing food / dietary supplements: I.S.O – The Standards Institute of Israel. H.A.C.C.P – Food Safety Management System. G.M.P – Good Manufacturing Practice, the Ministry of Health. Zuf Globus' products are defied as dietary supplements or in some countries as food supplements.
Other products:
Zuf Globus Laboratories is specialized in producing honey for specific conditions and the name of the product is representative. The most popular is LifeMel, which is used to prevent and treat the side-effect of chemotherapy and radiation suffered by cancer patients. Among them: anemia, severe neutropenia, and thrombocytopenia.
– LaringoMel – intended to treat upper respiratory problems;
– GastoMel – balances the digestive system, treats inflammation and ulcers;
– FlorMel – treats oral cavity problems;
– EazyMel – soothes and reduces high blood pressure;
– PotentMel – for male potency enhancement;
– EnergyMel – for better resilience and stamina, recommended in chronic fatigue;
– LadyMel day – helps in premenstrual syndrome and menopausal phenomena
– LadyMel night
– DefenceMel – improves immunity especially during winters
– ClearMel – helps in alleviating the negative effects of smoking. Improves respiratory system and inflammation caused by smoking.
– RelaxMel – helps in calming and balancing the nervous system, reduces tension, hypertension, improves sleep.
What is BronchoMel made of?
BronchoMel is a honey made in controlled environments, from the nectar of selected plants: Salvia Off, Laurus Nobilis, Sambucus Nigra, Eucalyptus Glob, Plantago Major, Matricaria recutita, Rosmarinus Off. The plants are organically grown and then properly harvested.
If you cannot afford to buy Bronchomel, or don't have access to a store that sells it, you should know the plants they use to make Bronchomel are mostly recommended for respiratory diseases, have antimicrobial properties and are well-known in phytotherapy. They are used as teas or essential oils. Some of them give monofloral honeys that are available, so we recommend them as good alternative.
(Keep in mind though, that some of Zuf's products are unique and there are no similar products available on the market. Like it is the case for LifeMel honey)
Here are the component plants of Bronchomel: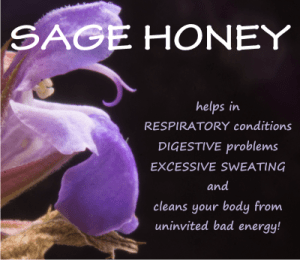 Salvia Officinalis 
Sage is a herb used with success in medicine, spiritual healing and cooking. Even our conventional medicine recognizes its health benefits and use it in its drugs.
Sage honey has a wonderful taste and is recommended to be taken in winter to relax the body and prevent respiratory and digestive problems.
Laurus Nobilis
Aka Bay Laurel, Laurus Nobilis is is an aromatic evergreen tree, native to the Mediterranean region and is used as bay leaf for seasoning in cooking.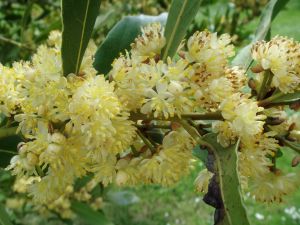 Flowers of Laurus Nobilis
picture credit G.Hagedorn via wikimedia commons
Sambucus Nigra
Sambucus nigra is a species complex of flowering plants in the family Adoxaceae native to most of Europe and North America. Common names include elder, elderberry, black elder, European elder, European elderberry and European black elderberry.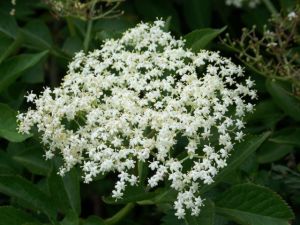 Sambucus Nigra flowers, (Elderberry)
picture credit Trish Steel via wikimedia commons
Elder flowers are used a lot in spring to make a specific beverage, called shokata. Flowers of elderberry are soaked in water with honey and lemon and left for 3 days in the sun. After filtration it results in a sparkling beverage with a great taste, recommended for digestive, respiratory and detoxifying issues.
Its taste convinced big producers to make Fanta Shokata (Elderberry-Lemon). Of course its medicinal benefits are lost during processing, but a healthy person never cares about them anyway. 🙂
Eucalyptus Globulus
Eucalyptus globulus is an aromatic tree  in the Myrtle Family (Myrtaceae), one of the most extensively planted Eucalyptus tree. It has with glossy, dark green, thick and leathery leaves and solitary flowers with many stamens.
Eucalyptus spp, also known as gum trees, are native to Australia and adjacent areas and are the tallest known flowering plants on Earth. There are over 700 species and some of them produce quality honey. See Australian Eucalyptus Honeys: River Red Gum, Blue Gum, Messmate and so many others.
Eucalyptus globulus produces nectar and pollen and from them honey bees give us Eucalyptus honey, a honey with a specific taste and aroma, recommended to all respiratory and urinary problems.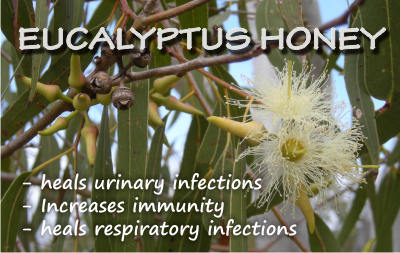 Plantago Major
Also known as Broadleaf plantain, I used to put this on any type of bleeding wound I has as a child. During holidays I would be always be sent in the country at my grandparents', where there was no other remedy for our scratches.
Later on I found out that the active chemical constituents was aucubin (an anti-microbial agent), allantoin (which stimulates cellular growth and tissue regeneration), and mucilage (which reduces pain and discomfort). Plantain has astringent properties, and a tea made from the leaves can be ingested to treat diarrhea and soothe raw internal membranes. A truly amazing plant.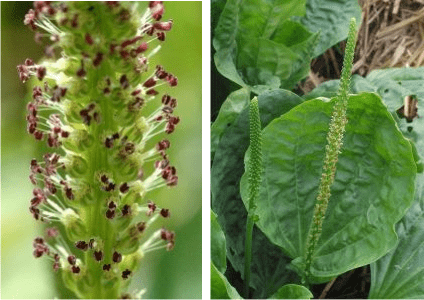 flowers and leaves of Plantago Major, aka Broadleaf plantain
pictures source James K. Lindsey and Rasbak via wikimedia
Matricaria recutita
Matricaria recutita is probably more known as Matricaria chamomilla, or chamomile (also spelled camomile), Italian camomilla, German chamomile, Hungarian chamomile (kamilla), wild chamomile or scented mayweed. It is the most popular source of the herbal product chamomile.
Flowers of Matricaria recutita, aka chamomile
picture credit kallerna – via wikipedia commons
Chamomile is used in herbal medicine for sore stomach, irritable bowel syndrome, and to improve sleep. It is also used as a mild laxative and is anti-inflammatory and bactericidal.
Chamomile honey is not much produced, we can find more chamomile infused honey.
Rosmarinus Officinalis
Commonly known as rosemary, is a woody, perennial herb with fragrant, evergreen, needle-like leaves and white, pink, purple, or blue flowers. It is an important spice in the Mediterranean diet.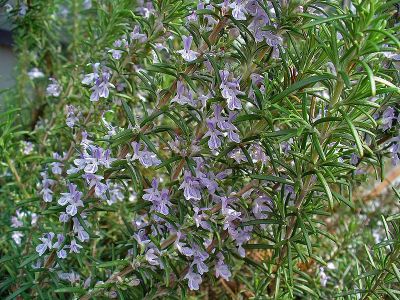 Rosemary flowers
picture source H. Zell via wikimedia commons
Real rosemary honey is really hard to find, but there is instead a lot of rosemary infused honey, for those of you who enjoy the taste and aroma of rosemary. Rosemary's health benefits start from improving memory to low blood pressure, stress and nervous tension, general exhaustion and sexual weakness.
How to take BronchoMel?
1 teaspoon 2 times per day (3 times in adults), with 30 minutes before meals. The honey is kept under the tongue and sucked slowly.
Where can we buy Bronchomel honey from?
· Amazon sells it and still has it. Here is a link:
Bronchomel Intended for Solving Respiratory Problems: Cough, Mucous, Respiratory Difficulties by Zuf Globus Laboratories Ltd
. It is rather expensive but it does its job! You won't regret the money at all! 
· Lifemel.co.uk sells is it,too.
· Lifemelusa.com sells is too, though they are out of stock at the moment. But you can still find Lifemel – if you are interested.
If you had any experience taking this honey, please leave a comment and share your experience with us.
====



=====
References:
lifemel.co.uk/;
rovitality.ro;
zufglobus.com;
israelexporter.com
featured picture with bee head – source pixabay.com