Ulmo honey is elm honey from Chile. And when it is fresh it kills MRSA isolate better than manuka honey UMF25+.
Name: Eucryphia Cordifolia Cav.
Family:  Cunoniaceae
Related to Eucryphia lucida (letherwood) and Eucryphia moorei (stinkwood).
Other names: ulmo, muermo (Spanish), elm (English)
Distribution: native to the temperate forests of southern Chile and Argentina.
Five Eucryphia species that have been described worldwide.Two occur in the Los Lagos Region (Eucryphia cordifolia Cav. and Eucryphia glutinosa), two in Tasmania and one in southwest Australia.
Main characteristics:
Ulmo is an evergreen tree reaching up to 35 m in height, occupying an emergent position in the forest canopy. Hardy, prefers free-draining soils. It can grow in semi-shade (light woodland) or no shade.
Wood: strong, hard, very close grained. Used for furniture, flooring, oars etc. Of a very good quality. It makes a very good fuel and is a source of charcoal. The bark is a a source of tannin.
Leaves: leathery, broad, silver–green.
Flowers: relatively large, disk-shaped, symmetric, lightly scented, white, reaching 5–6 cm in diameter, with conspicuous protruding yellow stamens. Peak flowering usually occurs in late January to early February. The tree has a self-incompatible reproductive system and is strongly dependent on insect pollinator visits (entomophylous pollination).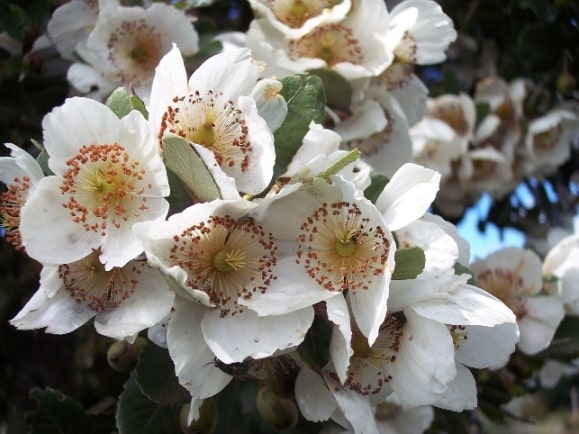 picture credit Fernando Bórquez via wikimedia commons
Two bee species account for 50 % of all insects that visit these flowers. In one study it was revealed that one bee species, the large bumblebee Bombus dahlbomii (native), was dominant in one season, whereas the introduced Apis mellifera (exotic) was dominated during the next season (Cecilia Smith‑Ramírez et al.2014).
Nectar and pollen: in abundant quantities.
Fruits: small pods containing many winged, wind-dispersed seeds.
What is ulmo honey?
In Chile there are 2 main types of honey. In the north part all restaurants offer "miel de palma" obtained from the sap of Jubaea spectabilis, the Chilean palm. In the southern part of Chile, they offer the real "miel de abeja", known as  Miel de Ulmo or Miel de Muermo.
Other monofloral types of honey from Chile: willow honey (Salix spp.), Tineo honey (Weinmannia trichosperma), Rape honey (Brassica spp.), white clover honey (Trifolium repens).
Ulmo honeys are considered to be of high quality and are highly esteemed in international markets, although
their production area is limited to three countries: Chile, Australia, Tasmania.
Ulmo honey from Chile, sourced in the nectar of Eucryphia Cordifolia got the attention of science and research revealed its medicinal properties.
Ulmo honey from Chile:
Color: Pale-yellow
Taste: aromatic with an almond-like taste.
Sweetness: intense
Crystallization: compact. It is often found in a slightly grainy form – easy to be spread on bread, like peanut butter.
Health benefits of ulmo honey
Ulmo honey exhibits antinfungal activity, tonic properties, aids in the treatment of respiratory tract infection symptoms such as cough or sore throat and ease the common cold, helps combat fatigue and offers digestive benefits.
It has powerful anti-inflammatory properties and helps convalescent people and for those affected by nutritional deficiencies and eating disorders.
Ulmo honey has strong antimicrobial properties
Ulmo honey kills MRSA better than manuka honey UMF25+
• The study "Comparison of the antimicrobial activity of Ulmo honey from Chile and Manuka honey against methicillin-resistant Staphylococcus aureus, Escherichia coli and Pseudomonas aeruginosa", conducted by Orla Sherlock from Ireland and published in 2010, tested the antimicrobial activity of a Chilean honey made by Apis mellifera (honeybee) originating from the Ulmo tree (Eucryphia cordifolia), against selected strains of bacteria.
In the study 3 types of honey were used:
– Manuka honey with UMF® 25+ (Comvita®, New Zealand),
– Ulmo 90 honey (Rio San Pedro Ltd. Chile)  90 represent the percent of ulmo nectar present in that honey. The rest of 10 % being from other Chilean plant species.
– and a laboratory synthesized (artificial) honey – for control.
The tests showed that Ulmo 90 honey had greater antibacterial activity against all MRSA isolates tested than manuka honey and similar activity against E. coli and P. aeruginosa.
MRSA –  better than manuka honey 
Escherichia coli – as good as manuka honey 
Pseudomonas aeruginosa –  as good as manuka honey 
! Unlike manuka honey which owes its antimicrobial power to its high amount of MGO (methylglyoxal), Ulmo 90 honey activity is largely due to hydrogen peroxide production. Which means that ulmo honey has powerful antimicrobial properties only when it is fresh (in the first 3 months after harvest) and is kept in cool, dark places.
Other honeys which are effective in inhibiting the growth of MRSA isolates:
– manuka honey (Jing Lu et al, 2014)
– Malaysian melaleuca honey (Wen-Jie Ng and Mei-Siew Lim, 2015),
– some Thai honeys, especially from longan flower (Kanyaluck Jantakee et al, 2015),
– buckwheat and heather from Finland (Sanna Huttunen et al., 2012),
– red honey from Ethiopia (Araya Gebereyesus Wasihun et al., 2016)
and other honeys from several other geographical regions, currently in research.
Ulmo honey + Vitamin C heals venous ulcers and burns
honey → contains antioxidant, anti-inflammatory and antibacterial properties. 
Vitamin C → reduces the epidermal barrier and wound contraction, among others. 
• The study Combined therapy of Ulmo honey (Eucryphia cordifolia) and ascorbic acid to treat venous ulcers., by Calderon Mdel S et al, published in 2015, assessed the clinical effect of topical treatment using Ulmo honey associated with oral ascorbic acid in patients with venous ulcers.
The treatment consisted in ulmo honey topically applied daily, combined with daily oral consumption of 500 mg of ascorbic acid. The honey demonstrated debriding and non-adherent properties, was easy to apply and remove and was well accepted by the users.
The treatment showed excellent clinical results for the healing of venous ulcers.
• The study Healing Effect of Ulmo Honey (Eucryphia cordifolia) Supplemented with Ascorbic Acid as Treatment in Burns, conducted by Carolina Schencke and published in 2015, morphologically evaluated wound healing of type B burns, on 15 guinea pigs.
The results of this study showed that supplementing Ulmo honey with ascorbic acid achieves faster healing when compared to unsupplemented Ulmo honey in wounds caused by burns.
The rapid healing was due to enhanced tissue formation, fibroblast activation, and fast keratinocyte/connective tissue re-epithelialization observed at 14 days post injury. However, unsupplemented Ulmo honey alone did not regenerate epidermal layer and showed an initial proliferative phase suggesting that ascorbic acid scavenged reactive oxygen species (ROS) enhancing the anti-inflammatory effect of honey.
Where can I buy Ulmo honey from?
From Chile, of course, if you go there don't miss tasting a fresh spoon of ulmo honey.
Online, I found some on olico.it, and on Amazon:
• Soco's Ulmo Honey: Raw Unfiltered Honey, Never heated, Unpasteurized Honey, Medicinal-Grade, Antibiotic-Free, Premium 'Ulmo' Honey, 17.6oz/500g, Bottled in Chile
;
• Terra Andes Ulmo Patagonia Raw Honey.
*************



************
References:
Plant hunters in the Andes,
 by Thomas Harper Goodspeed (a 429 pages book)
Trees in Patagonia
, by Bernardo Gut
https://pfaf.org/user/Plant.aspx?LatinName=Eucryphia+cordifolia
Pollen analysis of honeys from the Los Lagos region of southern Chile, by Helmut Horn & Maria Jesus Aira, 2009
https://en.wikipedia.org/wiki/Eucryphia_cordifolia