If you have stomach burns you have definitely heard of Helicobacter pylori. And hated it.
It's an unpleasant tenant that forces his stay into our stomach. Some people say it is a common bug and to some hosts, it is quiet and peaceful. But for some reasons, this bacterium is evil to others (5-10% of those infected). To them it brings gastritis, gastric and duodenal ulcers, gastric lymphomas, and gastric adenocarcinomas.
Put it in other terms: H. pylori is a gram-negative flagellated spiral bacterium which is usually acquired during childhood, and the infection persists throughout life unless specifically treated.
Iran is the country with the highest prevalence of H. pylori: 50.7%. (the range is between 19.2% in Tehran and 74.2% in Mazandaran provinces). And the anti-H. pylori drug resistance is continually growing:
• 14% – 45% for clarithromycin,
• 40% – 65% for metronidazole, and
• 2-37% for amoxicillin, in Iran.
For this reason, many therapist and scientists are looking for an effective remedy in the alternative medicine. Here is a solution: honey and black seeds. Able to help in curing not only cancer, but hard-to-kill bacteria.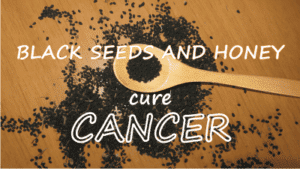 What is Nigella sativa, aka the black seeds?
Arabs say it is a universal healer, a panacea. A miracle all-healing remedy said to cure everything: cancer, bacteria, viruses, ulcers, diabetes, chronic inflammation, liver & pancreatic disease, fungus, molds and deadly parasites.
Aisha RA said that she heard the Messenger (PBUH) said, "This black seed is a cure for every disease except death." (Bukhaari) It is also recommended for use on a regular basis in Tibbe-Nabwi (prophetic medicine).
Nigella sativa, from the Ranunculaceae family, is native to south and southwest Asia. It is also known as black seed or black cumin. In Iranian traditional medicine it is called "Shooniz". And it is found in traditional medicine in India, Arabic countries, Europe and Iran as food additive, as well as a natural remedy for many disorders like cough, jaundice and gastrointestinal disorders.
It is known to have digestive, laxative and gastric tonic effects and also be effective on bloating.
• In 2005, O'Mahony R and his colleagues found that the aqueous extract of N. sativa had 100% bactericidal activity against H. pylori.
• In 2009, Atapour M and his team demonstrated in an in vitro study the anti-H. pylori effect of Iranian N. sativa.
• In 2011, Hajimahmoodi M and his team published the article In vitro antibacterial activity of some Iranian medicinal plant extracts against Helicobacter pylori, which also proves the anti-H pylori properties of Iranian black seeds.
• In 2013, the urease enzyme inhibition potency of Iranian N. sativa extract was presented by Biglar M and his team in the study Screening of 20 commonly used Iranian traditional medicinal plants against urease. (The anti-H. pylori action of N. sativa is probably due to its urease inhibitory effect. H. pylori uses urease enzyme product "ammonia" in order to neutralize and protect itself from the stomach acidic condition and urease enzyme activity has been shown to be essential to the colonization of H. pylori.) – study.
• In 2010 Salem EM et al. conducted the "Comparative study of Nigella Sativa and triple therapy in eradication of Helicobacter Pylori in patients with non-ulcer dyspepsia." in Saudi Arabia.
There were 4 groups:
· Group 1 received triple therapy: clarithromycin (500 mg twice daily), amoxicillin (1 g twice daily), 40 mg omeprazole once daily – for 1 week.
· Group 2 received: 1 g Nigella Sativa powder as capsule of 500 mg (1 capsule twice daily after meals) + 40 mg omeprazole once daily – for 4 weeks
· Group 3 received: 2 g Nigella sativa as capsules of 500 mg (2 capsules twice daily after meals) + 40 mg omeprazole once daily – for 4 weeks
· Group 4 received: 3 g Nigella sativa as capsules of 500 mg (3 capsules twice daily after meals) + 40 mg omeprazole once daily – for 4 weeks
*N. sativa capsules were obtained from BioExtract (Pvt.) Ltd., Sri Lanka.
It was considered eradication if there was a negative H. pylori stool antigen test, four weeks after the end of treatment. The best results were obtained by group 1 (82.6%) and 3 (67%). Dyspepsia symptoms improved in all groups to a similar extent.
But why had Group 4 lower results, if it had higher amounts of Nigella sativa?
The seeds of N. sativa exhibit a potent anti-secretory effect, the sum of the actions of high dose N. sativa and omeprazole could have led to profound acid secretion suppression, say scientists. This would enhance the spread of the bacteria to the body, causing drop in the eradication rate.
This is probably the reason in the next presented study, researchers will use only Nigella sativa and honey.
The trial's conclusion was that N. sativa seeds possess clinically useful anti-H. pylori activity, comparable to triple therapy. Further clinical studies combining N. sativa with antibiotics are suggested.
Interesting fact!
Two patients recruited in the above study were still positive for H. pylori after 2 consecutive triple therapy courses. These patients changed to negative after receiving N. sativa treatment in a dose of 3 g/d along with 40 mg omeprazole for four weeks. 

Honey and black seeds powder fight against H. Pylori
In 2012 a study was conducted in the Gastroenterology Clinic of "Rasool-e-Akram" Hospital, Iran, aiming to see if the honey-black seeds combination could eradicate H.Pylori. The patients had gastrointestinal complaints and positive urea breath test, UBT (had positive results for H. pylori infection).
The treatment was done with 6 g/day of N. sativa as ground seeds mixed with 12 g/day of honey, taken (in divisions) 3 times per day, after meals, for 2 weeks.
No antibiotic or proton pump inhibitors were allowed during the study.
4 weeks after the end of treatment, the eradication on H. Pylori was considered achieved if there was a negative UBT.
The results showed that out of the 14 participants who completed the study, 8 of them had a negative UBT 4 weeks after the treatment was done. This is a percentage of 57.1%. It is lower than of the triple therapy (amoxicillin, clarithromycin and omeprazole), which is of 75-80% – in developing countries.
The above results (57.1%) are similar to the reported results of the study conducted by Khaleghi S et al. from Saudi Arabia, "Comparison of sequential and routine four drugs therapeutic regiments in Helicobacter pylori eradication.", from 2013, when the eradication rate was seen in:
– 50.9% of patients in sequential therapy (omeprazole, amoxicillin, each administered twice daily for the first five days, followed by omeprazole, clarithromycin and furazolidone, twice daily for the remaining nine days), and,
– 49.1% in routine fourdrug (omeprazole, clarithromycin, amoxicillin and bismuth twice daily for 14 days) therapeutic treatment (P >0.05).
As observed, the results were different in the 2 countries: in Iran 57.1% (for the mixture with 2g black seeds and 12g honey/day) and 66.7% in Saudi Arabia, similar to triple therapy, (2g of black seeds powder/day + omeprazol). This is explained by the expected differences in resistance rate of H. pylori reported in different countries.
Yes, unfortunately it is true. The H. Pylori found in the US may be different from H Pylori found in Europe, Asia and so on. The bacteria mutate, become antibiotic resistant and that is why we turn to black seeds, honey and other natural antibiotics.
How does Nigella sativa seeds work:
Scientists say that most of the therapeutic properties of N. sativa are due to the presence of thymoquinone, which
is a major bioactive component of essential oil (Ahmad A. et al., 2013). Thymoquinone has gastroprotective mechanisms and anti-ulcer activity via an inhibiting proton pump, acid secretion and neutrophil infiltration, while enhancing mucin secretion and nitric oxide production (Magdy MA et al., 2012).
N. sativa has also been shown to produce synergistic and additive effect with several antibiotics in vitro (Hanafy MS, 1991). Thus combination of N. sativa with antibiotics could decrease the possibility of emergence of resistant colonies of H. pylori and improve the efficacy of antibiotic regimen.
Black seeds are powerful antiviral, too! They can kill HIV!
How to cure HIV? The black seeds, Nigella Sativa, have the answer!
Do black seeds really cure HIV? Some case reports may help!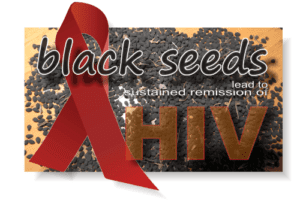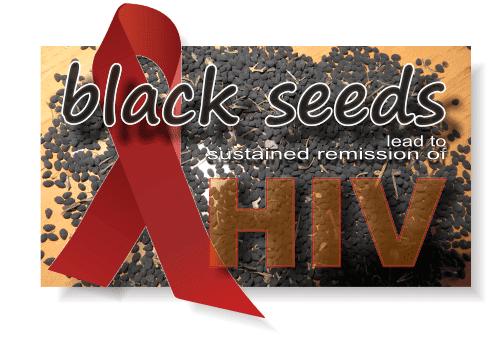 When buying black seeds, though I know it is more comfortable to buy it in ground form, it is better to ground it yourself, at home, after you have previously heated the seeds is a pan, on low heat.
Of course you can also buy them in tablets form, easier to take. Here are some found on Amazon:
Black Seed Extract, Nigella Sativa Extract, 500mg, 90 Vegetable Capsules | by Black Seed & Co | Promotes Brain Health, Anti-Inflammatory, Immune Response, Healing
.
Other natural antibiotics that fight H Pylori
Turmeric
A study done in 2005 by O'Mahony R and his colleagues, investigated both the bactericidal and anti-adhesive properties of 25 plants against H pylori. The plants were boiled in sterile distilled water (100 mg/mL) for 10 min, allowed to cool and filtered through sterile filter paper
Turmeric (Curcuma longa) was the most efficient in killing the seven strains within 15 min. Ginger (Zingiber officinale), cumin (Cuminum cyminum), and chilli (Capsicum anunum) were able to kill all the strains within 30 min.
Black caraway (Nigella sativa) killed the strains within 60 min.
A 2019 study, "Curcumin: A Potent Protectant against Esophageal and Gastric Disorders" conducted by Kwiecien S at al. from Poland, showed that curcumin, the principal polyphenol isolated from turmeric, which exhibits anti-inflammatory, antioxidant, antiapoptotic, antitumor and antimetastatic activities, when added to the triple anti-H. pylori therapy considerably increased the eradication rate, which was superior as compared to triple therapy alone.
https://www.ncbi.nlm.nih.gov/pubmed/16437723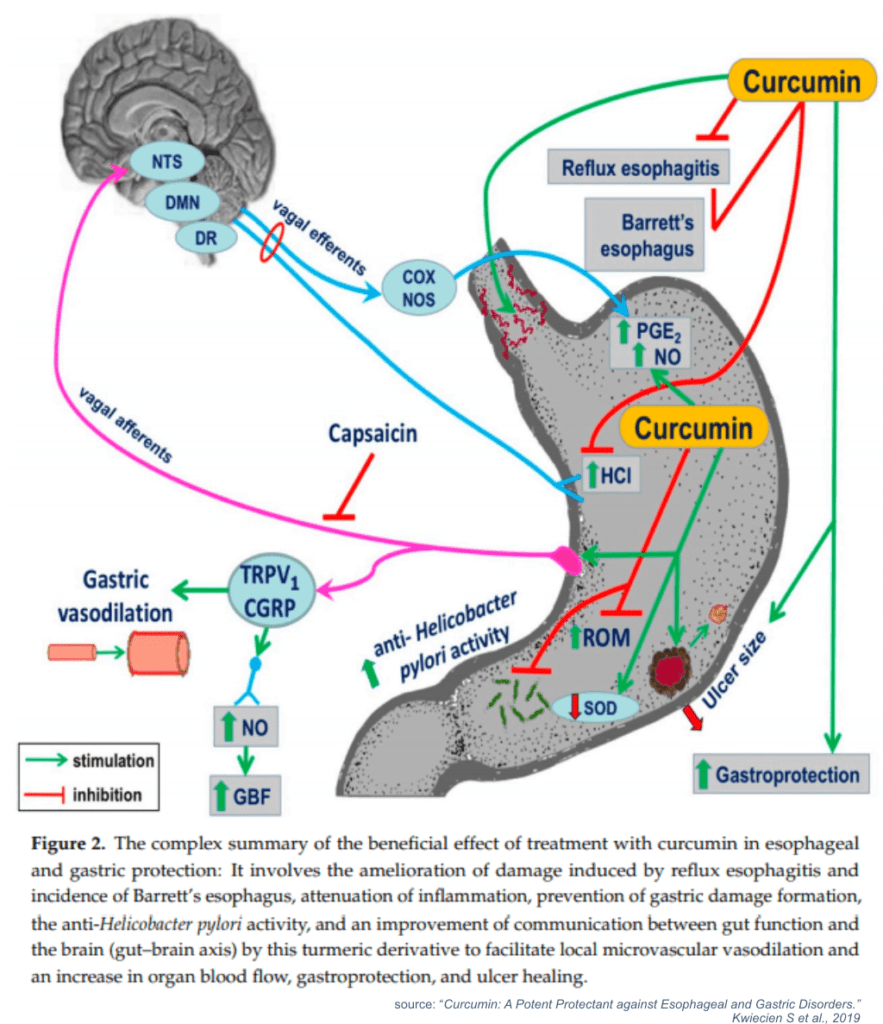 The bad news is that curcumin has poor water solubility, dissolution and retention time in the stomach and this  limits its practical usefulness in the treatment of peptic ulcer disease and neoplastic alterations including oral, esophageal, and gastric cancers in humans.
However, recently Kerdsakundee N and his team, presented a study in 2015, with a controlled release therapy of curcumin to treat gastric ulcers by novel raft forming systems incorporating curcumin-Eudragit® EPO solid dispersions, thus triggering attention with a great hope to develop a curcumin carrier with improved solubility and the dissolution of this compound and its prolonged gastric residence time. The authors have demonstrated a curative effect of this curcumin raft on the acetic acid-induced chronic gastric ulcer in rats. The curcumin raft forming formulations at the dose of 40 mg/kg administered once daily showed a superior effect in terms of the acceleration of the ulcer healing, as compared with the standard antisecretory therapy with the PPI lansoprazole (1 mg/kg, twice daily) and a curcumin suspension (40 mg/kg, twice daily).
Mastic gum was first reported to kill Helicobacter pylori (H. pylori) in 1998. It is derived from the tree named Pistacia lentiscus that is grown only in Island Hios of Greek. Tomofumi Miyamoto  and colleagues showed in a 2014 study that from the 20 constituents identified in the essential oil of mastic gum, 10 components were assayed for anti-H. pylori activity, and it clarified that a-terpineol and (E)-methyl isoeugenol showed the anti-H. pylori activity against four different H. pylori strains that were established from patients with gastritis, gastric ulcer and gastric cancer. (here is some you may found on Amazon).
Broccoli sprouts – some say they had good result with them. Nevertheless, according to a 2004 study, consumption of broccoli sprouts twice daily for seven days have been shown to be associated with eradication of H. pylori in three of nine patients. Not much of a result, if you ask me. However, it is a food that can be included in your diet, it will definitely help in fighting the bacterium.
Other references:
Combination of Nigella sativa and Honey in Eradication of Gastric Helicobacter pylori Infection.