Why are there bees in the cities? I know they travel a lot in search of nectar, but in the center of a city where there is basically only concrete, there shouldn't be any bees, in my opinion.
How about backyards, can I keep bees in my backyard?
For me bees are connected to nature, and a city has little nature in it. But as with everything, things have changed here as well. Bees can live in a city, and the tendency is to have more and more of them. Should we fear that? Yes and no. We'll see why.
London's Buckingham Palace,

New York's Whitney Museum of American Art 

Notre-Dame Cathedral in Paris 
Do you know what they have in common? Bee hives on their roofs!
Why do they do that?
Because the honey bees' decline in population. The reasons for this are still unclear, most probably being a cumulation of disease, pesticides, radiations and habitat degradation. And we don't want bees to disappear because we like to eat honey or because we'll die in 4 years (as some people claim Einstein said), but because the combined annual economic value of these bees to agriculture worldwide is estimated at $167 billion. 
And, because they serve their own honey to their customers.
Here are some luxury hotels with bee hives on their roofs:
Waldorf Astoria New York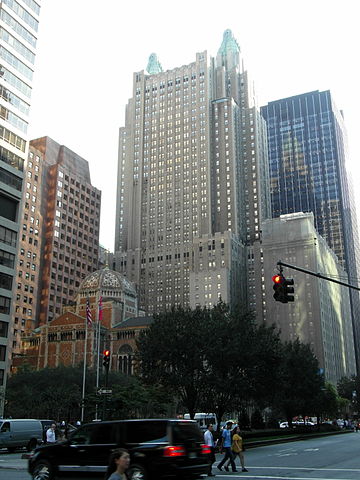 "On a rooftop 20 stories above Park Avenue, some 360,000 bees produce more than 136 kilograms (300 pounds) of honey, harvested annually, which not only finds its way into the hotel's menus, but also into treatments at the hotel's Guerlain Spa." (CNN reports)
David Garcelon, director of culinary at Waldorf Astoria New York, talks about this beekeeping business that it is in fact "an important statement about our concern for the environment, it is educational for our culinary team, and it provides fresh fruits, vegetables, herbs and edible flowers throughout our hotel".
Even more. In 2016, in partnership with the Empire brewing Company, the hotel created Waldorf Buzz beer; a brand new new brew with lemon verbena and hops from the on-site garden will be launched in fall 2017.
Until 2010, beekeeping was illegal in New York City, but this didn't stopped New Yorkers who built and maintained hives. The ban is lifted today on condition that only the species Apis mellifera (the least aggressive) is kept.
Today, In New York, there are beehives at InterContinental The Barclay Hotel, the Waldorf-Astoria Hotel, the York Prep School, the Brooklyn Navy Yard, and the Bank of America Tower (New York City). Officially declared.
What can get wrong here?
I haven't found any reports on tourists complaining to had been stung by bees.
In 2003, Richard M. Daley, then Mayor of Chicago, had two beehives placed atop City Hall.  In 2011 there were an estimated 160,000 bees.
Mandarin Oriental, Paris
Due to real concern of authorities, for the last 10 years Paris has been a pesticide-free zone. A fact that makes the beautiful city an attractive urban environment for honey bees.
Apiterra helped them with beekeeping of 50,000 bees on a hive placed of the roof of the Mandarin Oriental. last year they harvested 25 kilograms.
Here is what they offer on their menu at Bar 8: "Homemade Honey" made with Yuzu liqueur, jasmine tea with ginger, Champagne and house-made honey.
W hotel in Taipei
W Hotel in Taipei is the first urban beekeeping establishment in Taiwan. At its 32nd floor rooftop it hosts 150,000 busy bees in partnership with Syin Lu Social Welfare Foundation.
After 6 months and 2 harvests they moved the bees to another downtown building as part of the foundation's larger urban beekeeping project. The foundation produced more than 800 kilograms of honey in the first half of the year from 94 hives.
From their menu: On the menu: The "Detox Martini" cocktail at WOOBAR is made with green tea-infused Belvedere vodka, Grand Marnier, orange juice, yuzu juice, house-made honey and Sprite.
Fairmont Waterfront, Vancouver
 courtesy of Tripadvisor.com
Fairmont Hotels & Resorts has been are known to have committed to protecting the environment for over 25 years. To date, Fairmont hotels have more than 40 honeybee apiaries and wild bee hotels on property all around the world.
There is no wonder then that in 2008, Fairmont started to help combat Colony Collapse Disorder by placing honeybee hives on hotel rooftop gardens and other onsite locations. It was the first luxury hotel brand to develop onsite honeybee programming and is now considered to be the leading hotel company in this space. Their program is today extended globally, with onsite hives thriving in Kenya and China as well.
In Vancouver the Fairmont Waterfront has on its third floor terrace 500,000 resident honeybees in the 195 square meter herb garden. The bees forage over 67 square kilometers and 60 different plants (mainly blackberry blossoms and American bamboo blossoms). From May to September, guests can join a daily tour of the apiary and rooftop garden with a resident bee butler (and have a sneak peek at the bees from the observation hive).
Fairmont Waterfront became one of the first hotels in the group Fairmont Hotels & Resorts that built a solitary pollinator bee hotel.
On the menu: The "Waterfront Bee's Knees" cocktail at ARC Bar is made with Bombay Sapphire Gin, lemon juice, house-made honey syrup and topped with Earl Grey tea foam.
St. Ermin's Hotel, London
St. Ermin's Hotel had bee hives first on the main rooftop and later expanded the installation to include a specially planted wildflower terrace. The hotel analyzed the honey they produced and the results revealed that honey bees gathered nectar from 50 flowers and trees, within three-mile forage radius (which includes Buckingham Palace Gardens and St. James' Park).
Every September the hotel is the host of an urban beekeeping workshop with their expert beekeeper, Camilla Goddard of Capital Bee.
The UK government has aided the rise of keeping bees in cities by releasing a plastic beehive purpose-built for urban beekeeping. It is called Beehaus and it's supported by quango Natural England. The London Beekeeper's Association is an organization that supports best practice for urban beekeeping and holds monthly meetings, provides mentoring to new beekeepers, and lends out beekeeping supplies. The same does the Bermondsey Street Bees (BSB) which advises communities on how to keep bees in the heart of the city, as well as produce honey for restaurants and chefs.
Sarah Wyndham Lewis of BSB says, 'London has, by a factor of three, the highest population of honeybees anywhere in Europe, set against a background of rapidly shrinking green space.' That's the reason BSB is moving its honey bees to brownfield sites in the city's Docklands.
Urban beekeeping
This means keeping bee hives in the city. You can keep them in your backyard, if you live in a house and have a garden. Or, if you own a certain building, hotel or not, you can also keep bee hives on your terraces or rooftops.
Obviously, you cannot do beekeeping if you live in a block of flats. Although…..
Well, here is a futuristic bee hive created by Philips, the Dutch electronics giant. The hive lives on one side of the glass, while its entry is through a gate set outside the apartment. This urban beehive was part of their "Microbial Home" design concept, looking at how residential units could be designed with built-in ecosystem.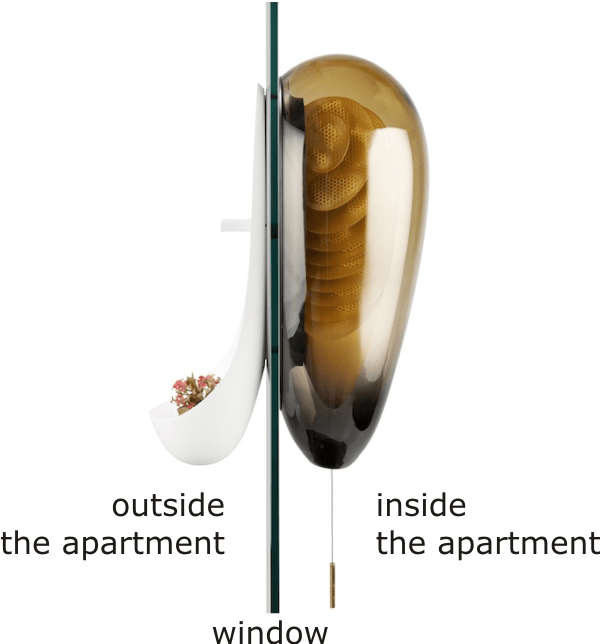 Picture source 90yearsofdesign.philips.com/
According to Tim Lovett, from the British Beekeepers Association, its membership has risen from about 8,500 people in 2008 to more than 24,000 in 2017 – many of whom live and keep bees in towns and cities. This happened because of CCD and our fear of remaining without bees on Earth.
Here is another example: In Birmingham, the rooftop of the city's Custard Factory building, in Digbeth, is home to 50,000 urban bees.
In London, Urban Bees was set up about a decade ago. It also runs courses teaching people about bees and helps to engage people in making cities more bee-friendly.
What is great about the honey harvested in a city is that it's pesticide free. The plants are unlikely to be treated with pesticides. In the countryside a lot of the forage is from farmed crops which have all sorts of treatments and sprays. Which go into nectar and eventually into honey.
It is even considered that bees from city apiaries are "healthier and more productive than their country cousins". (bbc.co.uk)
But what is your neighbor opinion on this?
You will need to ask. Because they might not like the idea and your bees will surely travel into their space. They could be afraid of being stung and even worse, could be allergic to bee venom. Some bee stings could lead to anaphylactic shock and death. Although statistics report a very low number of deaths from bee stings, around 40 per year.
Is urban beekeeping legal?
In some city it is, in some it is not. As a general rule, you are allowed to do something unless there is a written law to restrict or limit your right to do so. But if your city's bylaws are silent on bees, it should be legal.
Is it easy to do urban beekeeping?
Definitely not. While it is considered cheap, $150 per hive, you need a lot of knowledge, it's really difficult if you are a beginner. Keeping bees in the city requires easy access to the hives, enough plants for the bees to feed on – otherwise there is the risk of starvation or of spreading certain honey bee diseases.
The fact that now there are approximately 10 hives in every square kilometer of London, compared to one hive in the same area across England as a whole, have lead to the concern that the existing plants may not be enough for the bees. The researchers calculated each new hive in London would need the equivalent of one hectare of borage, a very attractive plant to bees, to live comfortably.
The scientists suggest people living in cities who want to help the bees should grow bee-friendly flowers instead of setting up hives for the insects.
Would you like to practice urban beekeeping?
If you live in a city and want to try beekeeping, you need to know there are some rules to follow for urban beekeeping. Here are some of these rules, very well explained by Hilary, a girl beekeeper who lives in in San Diego, California: 8 tips for urban beekeepers.
And if you want to find our more about this, these 2 TEDs might answer your questions:
– Why every city needs healthy honey bees at TEDxBoston 2012,
– Our future with bees at TEDxBoston 2014.
Enjoy.
================




================
References:
http://edition.cnn.com/travel/article/honey-bee-hotels/index.html
http://www.fairmont.com/promotions/fairmontbees/
http://www.bbc.com/news/uk-england-38227113
https://en.wikipedia.org/wiki/Urban_beekeeping
http://www.dailymail.co.uk/
Featured picture with beehives and block of flats – credit Kristine Paulus,published under CC via flickr.com