This post talks about the passion of beekeepers, as it is seen on their different kinds of bee hives. How the hives look when we have good materials to build them, and how when we don't even have where to place them. How people dedicate their lives to build something different and how wild bees make their nests, from our garbage!
Though this site is dedicated to honey and its effects on our body, I will mention some things about the passion for the honey bees. Because no man can be a beekeeper if he doesn't actually love these tiny little, yet dangerous creatures. It's so not easy at all to keep them. As dangerous they might be when danger is "smelled in the air", honey bees are fragile creatures. And live for so little. That's why this "keeping bees" is no easy task.
You got to have passion. And you've got not to be afraid, and surely not to be allergic to them. After that, with passion everything is possible.
There are so many festivals, contests, conferences held on beekeeping that prove the commitment we have for beekeeping. And some other people are concerned only with offering the best-looking home for the bees.
So let's talk about beautiful hives.
Here is the winner of "the most beautiful hive of Romania" in a contest held in 2015. The competitors added a soul to their hives, made them sweet homes for their sweet bees. With a story behind, with a beekeeper who became family. The first prize was won by a woman beekeeper, Pascaru Cristina Elena, who painted the hives herself.
Other people considere the bees like their children (some beekeepers do tell bees "my girls") and made hive in form of cradles. Like Alex Bibilici posts on his FB page – the source of the following pictures. They look indeed beautiful, as much as I can tell from the perspective of a non-beekeeper.
But I agree, it's easy to make beautiful hives when you have everything you need, and when you have large fields full of flowers to place the hive among them. But what do you do when you cannot find a field, when there is only mountain?
A beekeeper never gives up – this is what a Chinese would say. Take a look at their hives.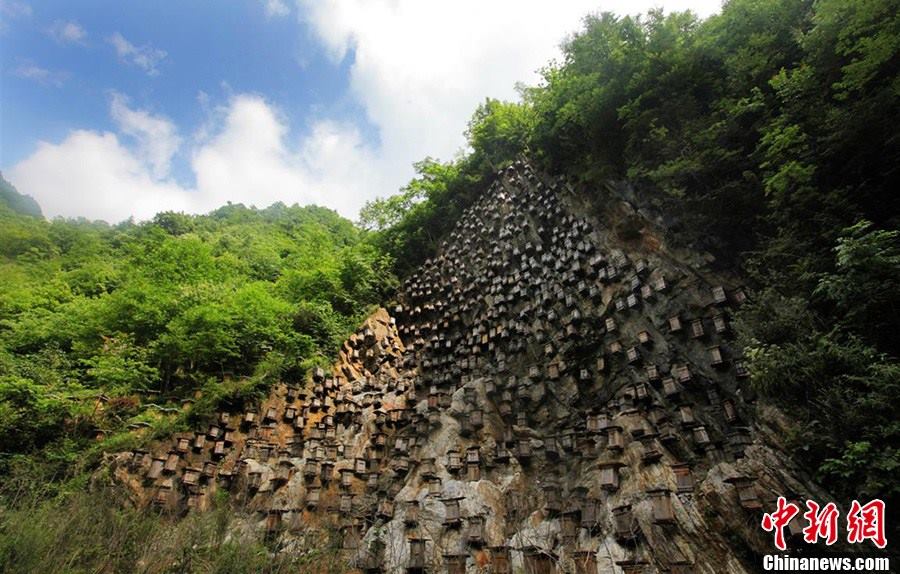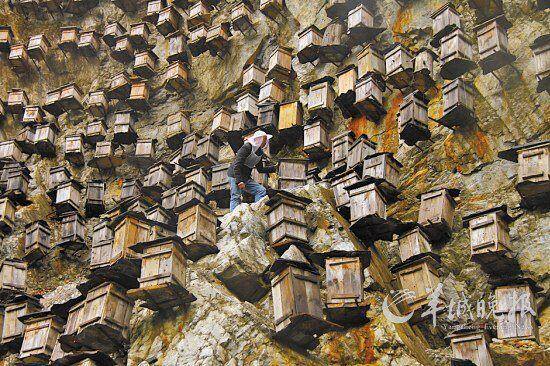 You have to admit there is an adventure to even build and place those hives on this mountain, not to mention the work the beekeeper has to do after that. They may do it for need, or for passion, either way, we have to admire them.
The hives are on mountains of Shennongjia Nature Reserve in central China's Hubei province, which encompasses three vertical vegetation zones and it was established in 1982. The area is famous for its population of rare animals such as golden monkeys, South China tigers, golden eagles and giant salamanders. But what attracts more the beekeepers are its medicinal plants found here.
See here other pictures of bee hives.
According to Bee World Project, beekeeping in China was recorded in the second century and currently the country produces half of the world's honey. Now we cannot exactly tell which is the real honey and which is fake honey, but from these hives, real healthy honey is produced: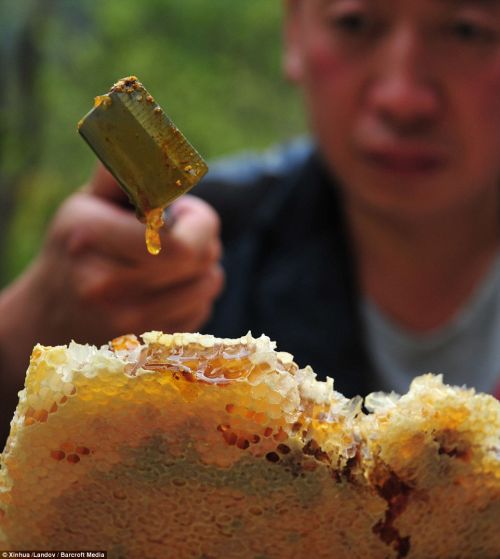 Pictures source and reference: dailymail.co.uk
With technology and resources, honey flows by itself!
While passion remains, technology and innovation can help a beekeeper improve his life a lot. These guys here, managed to make a hive with a tap. A magic tap which will release honey to flow directly into their jar. I bet the Chinese beekeeper would love one!
For all the details, please visit the page of their inventors on honeyflow.com. You can also buy hives from them, if you are interested.
Honey made directly in the jar
No, not flowed in the jar, but directly made there. A different kind of hive, made with jars inside.
Pictures source and reference Agrointel.ro
How is the hive of a wild bee?
Oh, that's a different story. But bees are smart girls and manage to recycle even the plastics we use and through away, without care.
And bees are not the only wild animals recycling our trash. Bowerbirds and hermit crabs are also doing some serious recycling. And according to a new study, in Canada two wild bees species use bits of plastic waste to build their nests.
Polyurethane and polyethylene – this is what they made their nest of. The leafcutter bees (they are the smart bees here) find pieces of plastic that mimic the natural materials they traditionally use and incorporate them into their nests. They are not like our honey bees' hives, but small nests, made in underground holes, tree cavities or crevices in buildings.
The alfalfa leafcutter bee was found to have replaced 23% of the leaves they used to make their nest with pieces of plastic. Another smart bee proved to be recycling plastic as well: the native American Megachile campanulae.
Is plastic good for the bees' nests?
Yes and no. Mostly no.
– Yes, because wasps could not sting through the plastic, and thus could not attack the bees. In a 1970 study, some alfalfa leafcutters made their nest in plastic straws, and the researchers noticed the effect of their life)
– No, because the plastic doesn't let enough moisture escape, encouraging the growth of dangerous mold, and as a result, 90% of their brood died.
Where can I find a regular hive?
The best place is Amazon. Here is what you can find there. If you want to eat clean real honey, do it yourself. Buy one hive and place it in your backyard. Give it a try! There are plenty of other people doing it and if you get stuck, there are lots of forums and old beekeepers willing to help. It's a community of friendly people.
Bee Hive – 10 Frame Deluxe Beehive Starter Kit and Beekeeping Supplies – Perfect Hives for Beginners and Pro Beekeepers – Beekeeper Kits for Honey Bees, Easy-to-lift Wood Beehives, Quality Equipment – Boxes, Frames, Smoker, Fuel, Veil, and Gloves to Fit Any Bee Suit. QUALITY GUARANTEED or Your Money Back!
Or if you not a beginner, a 10 framed hive: Bee Hive (10-Frame)
And if you have doubts regarding your abilities to do this, here is some help! 🙂 :
Other references:
– mnn.com/lifestyle/;
– esajournals.org/
–  "hives on a field" picture credit Maja Dumat, published under CC on flickr.com