My recent posts are about the best wound care dressing products. I mentioned Medihoney® as the best antibiotic gel/paste to apply on a wound, followed by Xtrasorb®, the best absorbent dressing, which will retain the fluid and ensure a clear, free from maceration wound.
The mechanism of action is based on two main features of honey:
1. high osmolarity which makes the fluid to be pulled out from the deeper tissue to the wound surface, helping the body's natural processes to clear debris and necrotic tissue from the wound.
2. low pH The lower pH of honey lowers the pH of the skin, which is usually high. This kills the bacteria and helps the tissue to regenerate. See the more detailed article: Manuka honey – the best for wound management.
Here is a product that combines Medihoney® and Xtrasorb®, making the whole process easier to buy, apply and change.
MEDIHONEY® HCS
(HCS comes from Hydrogel Colloidal Sheet)
This is one dressing that combines the benefits of the antibiotic medical grade manuka honey of the Medihoney® gel with the benefits offered by Xtrasorb, which uses a SAP (Super Absorbent Polymer) technology, offering increased absorption. It was proved that this product retains up to 2.5x the amount of fluid that is retained by leading hydrocolloids dressings, for lightly exuding wounds, found on the market.
All these benefits turn Medihoney HCS into one versatile dressing, which will heal your wound forever.

Can we use it on any type of wound?
No. Only for dry to lightly exuding wounds and burns. For these types of wounds, it is more comfortable to use only one product which can offer the healing substance and the protective cover dressing. For them, MEDIHONEY® HCS is the smartest choice.
Available in the following formats and sizes:
– non-adhesive: 2.4″ x 2.4″, 4.33″ x 4.33″, 8″ x 8″ and 8″ x 12″..
– Fenestrated – Non-adhesive: 1.8″ x 1.8″
– Adhesive: 4.3″ x 4.3″ with adhesive border, 6″ x 6″ with adhesive border
PROs
· The wound is visible
· Has a soothing, cooling effect on application
· Reduced frequency of changes
· No odor
· Shortened time to heal
· No need to buy 2 products to heal and protect the wound
· Natural, non toxic
· Latex Free
· There are various products, in adhesive or non-adhesive formats, in different sizes, and we can find them on Amazon.
CONs
· A bit expensive compared to other wound dressings.
Available at Amazon: Derma Sciences 31622 Medihoney Dressing Hydrogel Colloidal Sheet, Non-Adhesive, 2.4″ Width x 2.4″ Length (Pack of 10)
MEDIHONEY® Calcium Alginate

Where can we use it?
On moderate to heavy exudate wounds, either shallow or deep. This type of dressing provides a moist environment and can be used for wound bed preparation and throughout all phases of wound healing.
It contains 95% active manuka honey.
Through its high osmolarity, the dressing helps to cleanse the wound and remove devitalized tissue.
Sizes: 3/4″ x 12″, 2″ x 2″ and 4″ x 5″
MEDIHONEY Wound & Burn Dressing – 4″ x 5″, 10 Count Box, available on Amazon
Honeycolloid™ Dressing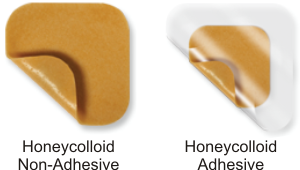 Where to use it?
· Moderate to heavily exuding wounds.
· Pressure ulcers (I-IV).
· Diabetic foot ulcers.
· Venous stasis leg ulcers.
· Arterial leg ulcers.
· Leg ulcers of mixed etiology.
· 1st and 2nd degree burns.
· Donor sites.
· Traumatic and surgical wounds.
It comes in both formats: non-adhesive (in sizes of 2″  x2″ and 4″ x 5″) and adhesive (sizes of (3 ½" x 3 ½" with adhesive border and 6″ x 6″ with adhesive border)
Derma Sciences 31022 Medihoney Calcium Alginate Dressing, 2″ Width x 2″ Length (Pack of 10)
, available on Amazon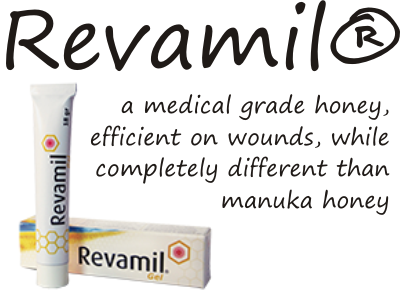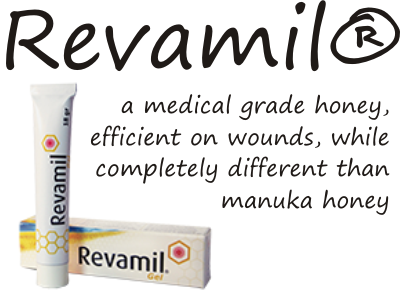 *******




*******