You may not be aware, but propolis is part of our lives now, like it was since the Pharaohs. Products with bee propolis: ointment, creme, tincture, essence, pills, nasal spray, oral spray, lozenge, suppositories, syrup, food supplement in capsules and powder, lip balm, toothpaste and others.
You will see propolis on their label, especially if you are buying from a naturist shop.
And, we will soon have an intravenous propolis solution, thanks to the continuous work of Michel Simics from Canada. An IV treatment has faster and stronger health benefits and we hope to have it available soon.
Where is propolis used?
– in natural medicine as a health enhancing food supplement
– in medicine,
– in dentistry
– in veterinary medicine,
– in cosmetics,
– as food preservative or antioxidant
– as a phytoinhibitor in agriculture
– as air disinfectant
– in wood varnishes
– Amazon Indians made arrow cement from the propolis of the stingless bees called geopropolis;
– In the past, propolis probably has been more commonly used in wood preservatives or varnishes, and it is claimed that the famous violins of Stradivarius contained propolis;
– Due to its acaricide and antibiotic activity propolis has been proposed to be used against varroa or American foul brood.
How could not propolis be part of our health products?! It's the product the bees make to disinfect their beehives. It's their natural superdrug. Super for them and super for humans: with its high amount of active compounds it has a broad spectrum usage as antibiotic, antiseptic, antiviral and antifungal product.
Made from tree saps and bee's enzymes. A powerful combinations.
Tree sap?
Yes. Tree saps are even used in this simple form in many parts of the world. For example:
Maple tree: used to make maple syrup
Ash tree: used to make manna, which was used to flush toxins and as a gentle laxative and purgative
Birch tree: used to makes beverages in northern European counties antiseptic, anti-parasitic, anti-inflammatory
Sangre de Grado (South America): creates a red sap called blood of the dragon and used for wound healing and digestive distress
Pine tree: resin chewed by Native Peoples to alleviate joint pain
Spruce sap: a traditional cold remedy
Guggui tree (India): helps to control cholesterol and aid detoxification
Myrrh tree (Middle East): used to preserve mummies and a remedy for infections, stomach and lung disorders
Frankincense tree (Middle East): well known aromatic and healing properties, used for skin ailments such as wounds, burns, arthritis
Mastic tree: resin called Arabic gum, and used for dental issues, digestive issues and infections
Terabinth tree: resin was used in ancient Egyptian medicine and found to have antioxidant properties.
So tree saps come with powerful properties that are somehow activated by bees added enzymes. It results a unique product with a unique composition. How not to use it in all sorts of form, for our health?
Propolis preparations:
Make propolis pills at home:
Use pure whole propolis. Freeze it deeply. Grind it to powder. Mix this powder with lactose in 1:1 ratio. Press into pills.
Semisolid preparation: 
A Lithuanian semisolid preparation is described by RAMANAUSKIENE et al. in 2012, in Modeling of the Composition of A Semisolid Propolis Preparation, and Evaluation of Its Quality." with a soft propolis extract (patented) with olive oil and cocoa butter.
Propolis paste:
Krell describes a preparation of a propolis paste based on the evaporation of an ethanol extract. This paste can be used itself or added to different types of butter.
Mixtures, emulsions, concentrates, creams, ointments

Ethanol-water mixtures:  Mix 1 part 30 % propolis ethanol tincture with 5, 10 or 100 parts of water. It's true that some of the propolis constituents will precipitate. The durability of this mixture durability is limited to 7 days.
Store in the dark. Shake before use. This mixture is used for stomatology and for compress.
Ethanol-oil emulsion:
Mix 1 part 30 % propolis ethanol tincture with 1 or 2 parts of glycerol or edible oil. Stored in a dark place, this emulsion has an indefinite shelf life.
Propolis concentrate
There are propolis concentrates with 25 % liquid (wet or concentrate) and 5 % liquid (dry or concentrate). These concentrates are used for the preparations of creams, pastes and suppositories, or for mixing it to honey.
Propolis creams and ointments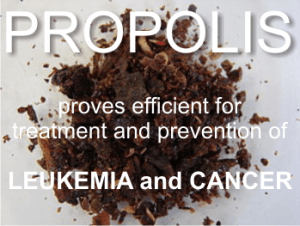 Creams are usually made with a basis of a propolis concentrate and vaseline or vaselin-sunflower (2:1) oil. Or lanoline as an emulgator. In practice 1,2 and 5 % propolis are used. For:
· 1 and 2 % cream: add 90 g vaseline, 10 g lanoline to 1 or 2 g of a dry propolis concentrate.
· 5 % cream: add 80 g vaseline, 15 g lanoline to 5 g of a dry propolis concentrate.
While mixing lanoline with a spatula add first propolis concentrate unitil a uniform mass is attained, then add vaseline and mix well. Pack it in a dark cream box, tightly closed.
Propolis paste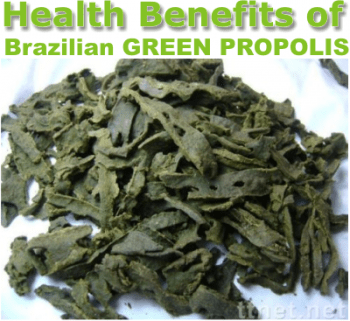 Place propolis in freezer, cut it into small pieces and ground it to a fine powder. Mix it in a vessel with the basis (honey, margarine, butter etc.), so that 5, 10, 15 and 20 % propolis cream is obtained. Also, the dry concentrate can be used (5 g dry propolis concentrate for 100 g basis). The dose to be taken is 3 times a day: a tea spoonful 0.5-1 hour before meals.
Propolis butter
Boil 1kg of butter and cool down to 80° C
Add 150 g propolis powder and mix well
Cover with lid and wait 20 min. while stirring from time to time.
Extract propolis into butter by heating mixture at 80-90°C while energetically stirring
Filter hot mixture through a gaze and keep closed in a cool dark place until consummation.
The dose to be taken is 3 times a day, a tea spoonful 0.5-1 hour before meals.
Propolis cream for dentistry,
SOSNOWSKI, Z (1983) in "Method for extracting propolis and water soluble dry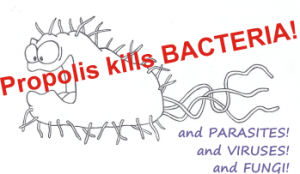 propolis powder." (United States
Patent 4382886) describes how it should be made. The ingredients are in parts by weight.
10 Lanolin
10 Unbleached beeswax
10 Petrolatum (or Vaseline, the trade name for a petrolatum)
2 Ethyl aminobenzoate
3 Clove oil
15 Propolis (50% EEP)
But things are more simple if we can just buy them. And today, this thing is possible. We have propolis in all forms, tons of information over the Internet, lots of online shops selling them.
What can we find on the market?
My first choice is Propolice Essence – an extract which combines both hydrosoluble and ethanol soluble constituents of propolis. An alcohol free product, that can be safely used since 1 year old. It can be found as a spray and this makes it perfect for sour throats, colds, flu. You can read more about it here.
Here are some examples of products available on our market.
· Tincture
· Throat Spray
· Capsules

· Extract
· Homeopathic Ointment for Topical Application
· Ointment for cold sore symptoms
· Lip Balm
· Toothpaste
=============



=============
References:
– The Propolis Book, Bee Product Science, February 2014, http://www.bee-hexagon.net;
– http://www.tamarawolfson.com/propolis.html