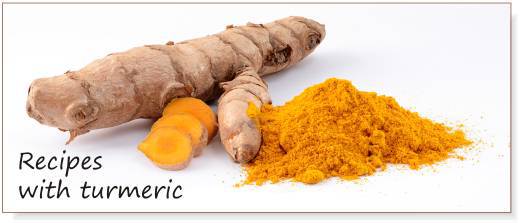 We are not Indians. Except for curry and mustard, we don't have turmeric in our lives. How do we get turmeric into our diet? Here are a few recipes with turmeric powder, really easy to prepare.
Specialists say we should add it to our smoothies, teas, cocktails, in our salsas and on our steaks.
The simplest way is to make a tea, where we can add other ingredients according to our taste.
Also read What is turmeric good for? to know why all the trouble of introducing turmeric in your diet.
Here is a tea recipe, found on Dr Dr. Andrew Weil's website:
Turmeric tea No. 1
1. Bring four cups of water to a boil.
2. Add one teaspoon of ground turmeric and reduce to a simmer for 10 minutes.
3. Strain the tea through a fine sieve into a cup. Add honey, ginger, and/or lemon to taste.
Ground turmeric is commonly used, but Weil suggests experimenting with freshly grated turmeric for a little added zing.
Turmeric tea No.2
· 1 cup coconut milk
· 1 cup water
· 1 tablespoon ghee
· 1 tablespoon honey
· 1 tablespoon turmeric (powder or grated root)
Pour the coconut milk and water into the saucepan and warm for 2 minutes. Add in butter, raw honey and turmeric powder for another 2 minutes. Stir and pour into glasses.
Tea with butter in it is a very common thing among yogis, especially those who live at high altitudes and this combination offers them energy and warms the body.
Turmeric eggs 
Total Time: 25 minutes
Serves: 1-2
Ingredients:
4 eggs
2 oz. shredded raw cheese
3 tbsp.ghee
1/2 cup chopped red onions
8 chopped green onions
1 cup chopped yellow pepper
6 cloves of minced garlic
1 tbsp Thyme
1 tbsp Oregano
1 tbsp Basil
2 tbsp Turmeric
How to do it:
Sauté onions, green onions and garlic in a pan with ghee, over medium low heat, for 10 minutes.
Add in the eggs, cheese and herbs.
Cook for 10 minutes, stirring continuously and add in the turmeric.
Curried Carrot Soup 
Total Time: 45 minutes
Serves: 4-6
Ingredients:
4 tbsp coconut oil, melted
6 cups chicken broth
5 cups of peeled carrots, thinly sliced into rounds
2 cups fresh chopped onions
2 tsp curry
1 tbsp fresh ginger, minced
1 tsp coriander seeds, powder
3/4 tsp yellow mustard seeds, powdered
2 tsp lime peel, finely grated
3 tsp fresh lime juice
sea salt and black pepper to taste
kefir or goats milk yogurt for garnish
How to do it:
Melt coconut oil over medium heat in soup pot
Add coriander, mustard seed powder, curry powder and ginger powder. Stir for a minute.
Sprinkle with sea salt and pepper
Add onions and sauté until soft
Add Chicken broth and sliced carrots and cook on medium low heat for about 30 mins
Puree in blender until smooth, then return to pot.
Stir in lime juice and season with more sea salt and pepper to taste.
Serve garnished with Yogurt and Parsley
Spiced ghee for Soup or Vegetables 
a teaspoon of ghee or olive oil
1/4 tablespoon of turmeric
a little sweet paprika
1/2 tablespoon of cumin seeds
At a low temperature, heat up the ghee (olive oil) in a small pan. Add in the turmeric, sweet paprika, and the tablespoon of cumin seeds. Once you hear the cumin seeds start crackling, which happens after only a few seconds and does not require you to actually fry or cook the ingredients, take the pan off of the stove.
Now, pour the spiced ghee over some vegetables or soup to make a delicious meal that is also a powerful health booster.
What is turmeric good for? What is Golden Honey? Click here to find out.

Turmeric & honey mixture for colds
Ingredients needed:
100 grams of raw organic honey
1 tablespoon of turmeric
2 tablespoons of natural organic apple cider vinegar
1 teaspoon of finely grated organic lemon rind
A pinch of black pepper
1 Tbsp organic coconut oil
How to do it:
Add 1 rounded tablespoon of turmeric, apple cider vinegar, fresh ground black pepper, coconut oil and lemon rind in 100 grams of raw honey. Mix it thoroughly and put it in a jar.
At first sign of a cold, start using this mixture.  Take 1 tablespoon per hour for the first day then one every 2 hours the second day and on the third day take it once every 3 hours. Then as needed, but you should be healthy now.
The simplest way to add a little turmeric into your diet is to sprinkle it in your protein shake or green superfood drink, if you are used to drinking them.
If you prefer a non-liquid meal for breakfast, try sprinkling or dropping 1/4 tsp on your morning eggs or vegetarian option. This can be done multiple times throughout the day, such as in your workout shake or even in your favorite juice or water drinks. There are lots of possibilities, combine them as you like it till you find what is the most enjoyable way of eating it.
Remember not to do anything because you "should". Don't keep your nose with the hand and try to swallow it, because you know it is good for your body. It won't do you any good, if you are doing it like that. Food must bring pleasure to our taste buds.
References:
http://www.alzheimers.net/2013-07-29/turmeric-and-alzheimers/
"Curcuma longa roots" by Simon A. Eugster – Own work. Licensed under CC BY-SA 3.0 via Wikimedia Commons